Come join us for the second #editathon event of 2013, a weekend of mapping on April 20-21. All over the United States, starting at 12 noon Eastern going until 6PM Pacific each day and longer, we will be improving the US on OpenStreetMap . Join us at one of the locations (to be announced) or virtually on our IRC channel #osm-us on the irc.oftc.net network.
If you haven't ever mapped, this is a good time to come out and ask someone to show you – it's really simple!
Locations:
Denver, CO - Saturday April 20 10am-4pm – At the Univ of Denver Boettcher West Building - Contact Jim McAndrew
Chicago, IL - Contact Ian Dees
Cleveland, OH – Saturday & Sunday; Times, Location: TBA. Contact: Will Skora . Held as a part of the Open Geo Cleveland and Cleveland Civic Hacking Groups.
Kansas City, MO – CityCampKC Contact: Andrew Hyder
Littleton, MA – Saturday April 20, 12 to 4PM. Littleton library, Jason Remillard (jremillard)
Milton, CT - Saturday April 20 12PM – 6PM
NYC - Sunday April 21 12PM – 6PM
Pasadena, CA – Pasadena, CA; Saturday April 20, 12-5 PM at Jones Coffee Roasters at 693 S. Raymond Ave., Pasadena. Contact Christine White .
Portland, OR – Saturday April 20, 12 to 5PM. Details on Calagator Contact: Darrell
Salt Lake City, UT Contact: Martijn van Exel ( talk )
San Francisco, CA - Saturday, April 20th; stamen design; 2017 Mission St San Francisco, CA 94103, 12:00PM to 6PM
Sunnyvale, CA (Yes, the same meetup group as SF )
Tampa / St Petersburg, FL - Saturday, Apr 20, 12:30PM – 3:30PM+ (contact: Coleman McCormick )
Washington, DC - MapBox office, Saturday April 20 12PM to 5PM .

Boston, MA – CANCELLED
We are currently working out additional physical locations all over the United States. If you'd like to host an #editathon in your city add yourself to the Wiki or drop us a line , we will feature you here.
You can contribute in a number of ways:
Use Maproulette at https://maproulette.org
Improve your home town
Record the location and details of restaurants, gas stations, post offices, etc …
Capture traffic lights, speed limits, turn restrictions (no u-turn, no left turn, etc)
Be creative …
There is only one rule: when you save your changes to OpenStreetMap, use #editathon in your commit message, we'll use that to create a visulization of our edits afterwards.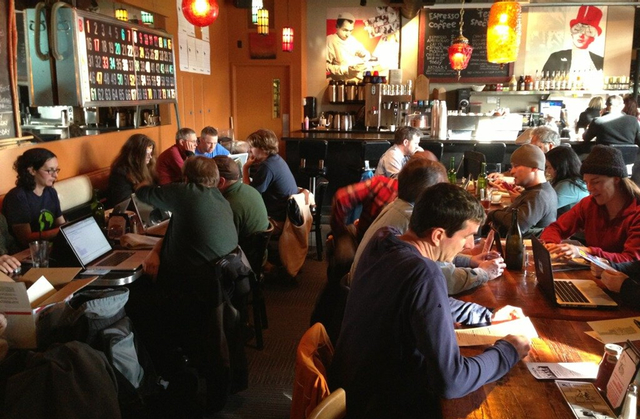 January 26 #editathon in Portland, OR