Update: This post used to be called "This Is Why We're Doing #mapathons" but #editathons are #mapathons now. Mapping isn't just editing OpenStreetMap, but also surveying outside - and while #editathons never intended to just limit activities to the indoors, it did come to confusions. So say hello to #mapathons! Same concept as before, just sounds nicer - doesn't it? (name change in June 2014, more thorough edit of this post in April 2015)
For this weekend's #mapathon, individuals in eight cities joined again for two days of improving the US map on OpenStreetMap. Together they edited OpenStreetMap, went outside for surveys, prepared imports, ran analytics on data and in many cases learned for the first time about OpenStreetMap. While they did a lot more than just editing, together they created over 1,000 changesets which is still more than many of us did in their life time on OpenStreetMap. All #mapathons are locally organized, so a good share of those busy around this weekend were securing venues, welcoming people, giving introductions and helping out others to edit the map. A big thank you to all joining and organizing!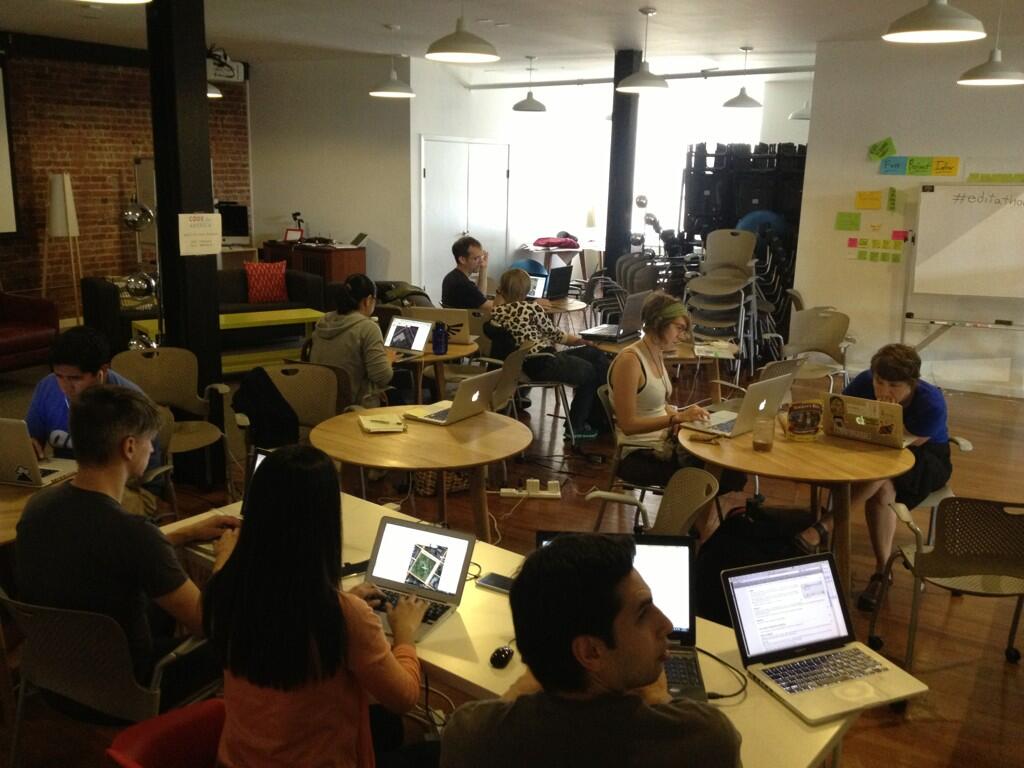 #mapathon at Code for America in San Francisco.
Our overall goal with #mapathons is simple: grow the community, thus improve OpenStreetMap. #mapathons are a great tool for this specifically because:
they give an incentive to hold a local, physical event
they give newcomers a chance to learn about OpenStreetMap face to face in a social setting
they are an excuse for local mappers to connect in person
two or more individuals together are more likely to tackle larger projects
they make editing newsworthy, "hey, we're part of something bigger"
While I'm sure your local Baseball game, BBQ festival or running event turns out more spectators or participants, #mapathons are rapidly developing into a great regular excuse for people to get together to get work done, socialize around OpenStreetMap or learn about how they can use OpenStreetMap for fun and work. Discussions at #mapathons have inspired The Atlantic to ask What happens when everyone makes maps?
exactly the kind of question we want many more people to ask themselves.
#mapathon at OpenGovHub in Washington DC.
Tips for running your own mapathon
Whish there was an #mapathon in your city? Maybe you should run one :) #mapathons are community driven events, OpenStreetMap US merely calls a weekend for an #mapathon, it is individual OpenStreetMap contributors who actually hold events in their cities.
We typically call an mapathon four weeks ahead of time (yes we're working on getting more lead time) and ask organizers to add their locations to the Wiki (for example 2013 Summer Editathon wiki page).
We help promoting the event through our channels, but the organization of the local event is entirely up to you. Here are a couple of tips for running your own #mapathons.
Only rule: tag it #mapathon
The rule is simple: anything you add to the map, tag it #mapathon. But outside of that, really it's up to you what you'd like to focus on. Here are some ideas:
Identify a map problem in your area, rally around fixing it
Run a survey with Field Papers
Hold an introductory workshop
Do deep dives on advanced topics like transit mapping
Use QA tools like Map Roulette or Keep Right
It's good to keep the event as free flowing as possible and to offer activities as optional, people are coming out with all sorts of plans and expectations, give them leeway to self organize and pursue their interest in OpenStreetMap.
We're focusing our #mapathons on improving the United States on OpenStreetMap, but if your local group is interested in lending a hand in an overseas area - for instance through an initiative led by the Humanitarian OpenStreetMap Team - that's great, too.
Help out the newbies
There's always going to be someone new at your #mapathon. Whether you'll help them get started on OpenStreetMap with a workshop or just lend them a hand one on one - make sure they get an introduction to OpenStreetMap and know who to ask if they have a question.
Nail the venue
It's not always easy to find the right venue, but the right venue makes running a great event so much easier.
You'll need solid internet.
Having a space where you can focus is great, mapping all day in a café is doable, but can be exhausting.
It's great to get specific organizations involved in hosting. To get a new organization to host your event is an opportunity for you to tap into their network for promoting the event.
Public libraries, coworking spaces, hacker spaces, local colleges or universities are all good options.
If finding a great venue is just hard where you live, don't let it be a show stopper.
Promote
This is finally the most important part. We will be blogging and tweeting your event, but don't rely on our pull alone :) Reach out to your local networks and advertise this event through your channels. This is a nation wide event that your local community can be part of, use this to stoke interest. Invite friends, family and colleagues. Blog, tweet, facebook, meetupify the event, write a press release for your local paper. Use this as an excuse to bring people together around OpenStreetMap who would have otherwise not met.
Join us
We're hoping to have you at the next #mapathon in late October this year - details to be announced. Leave a comment here if you have any questions on running your own #mapathon or suggestions on how the OpenStreetMap US chapter can improve its support for them.
Photos: Mike Migurski, Alex Barth