This a guest blog post featuring a conversation with OpenStreetMap community member Valerie Anderson & Interim Executive Director Maggie Cawley.
Do you have a story to tell? OpenStreetMap US news or info to share? Message us at team@openstreetmap.us and we'll work with you to craft a blog post to share with the community!
Q: Hi Valerie and welcome to the OpenStreetMap US Blog! Please tell us a little bit about yourself and your involvement in OpenStreetMap.
A: Hello! I am Valerie Anderson, a native Floridian from Ormond Beach, currently living in St. Cloud, FL. I have degrees in Horticultural Science and GIST, and am the Director of Communications & Programming, Florida Native Plant Society. I reached out after I saw Maggie's April 8th post in the #geoladies slack. I had previously thought of myself as a run-of-the-mill armchair mapper with a bit of field experience. When I saw your post I thought to myself, yes, actually, I do have something to add.
I don't remember exactly how I found OpenStreetMap. At first I was adding suggestions to Google Maps, but I joined in 2014 to map my AirBnB that wasn't on Google Maps. I consider myself a casual mapper - mostly adding conservation land, wetlands, and trails in Florida. I also do some road and PIO editing when I travel. I tried to start an import for the Bing building footprints but got discouraged and let it sit.
Initial editing via the iD editor was pretty easy, upgrading to JOSM was a challenge despite being a masters student in GIST at the time. The memory limit and single coordinate system was jarring, to say the least. Once I got the hang of it I enjoyed using JOSM. I map a few times a week now.
Q: You work in conservation - is there any integration of OpenStreetMap?
A: I am involved in two nonprofits, one that uses OSM extensively (Friends of Split Oak Forest) and one that uses it sparingly (Florida Native Plant Society). Friends of Split Oak Forest (FOSOF) was created to protect a public conservation area, Split Oak Forest in OSM , from having a road built in it. FOSOF volunteers mapped all of the trails, numbered signposts, and (some of the) plant communities in OsmAnd. I checked for data quality and when the Florida Trail was routed through Split Oak we were able to mobilize volunteers to get out an accurate route as "blazed" before the Florida Trail did. FOSOF volunteers and members are not yet using OSM and OSM-based mapping services on a regular basis because of their general inferiority to Google Maps in Florida, and I am unable to personally remedy this without spending significant time away from my partner and other (IMO more important) volunteering activities because of the time and skills that it would demand that I do not have.
FOSOF held a Mapathon for OSM Geoweek in 2017 where I taught people how to use OsmAnd at a nearby Panera and we went out and mapped the bat boxes and such but it was difficult to teach new users and not incredibly well-attended so I didn't continue this beyond 2017 link to fb journal. I was not sure how to measure the success of the event. When we run BioBlitzes, three-day events where people go out in the park and document their findings in iNaturalist, we report exciting rare plants, animals and fungi as well as total observations and total species at the end of the event. They are tangible, exciting metrics.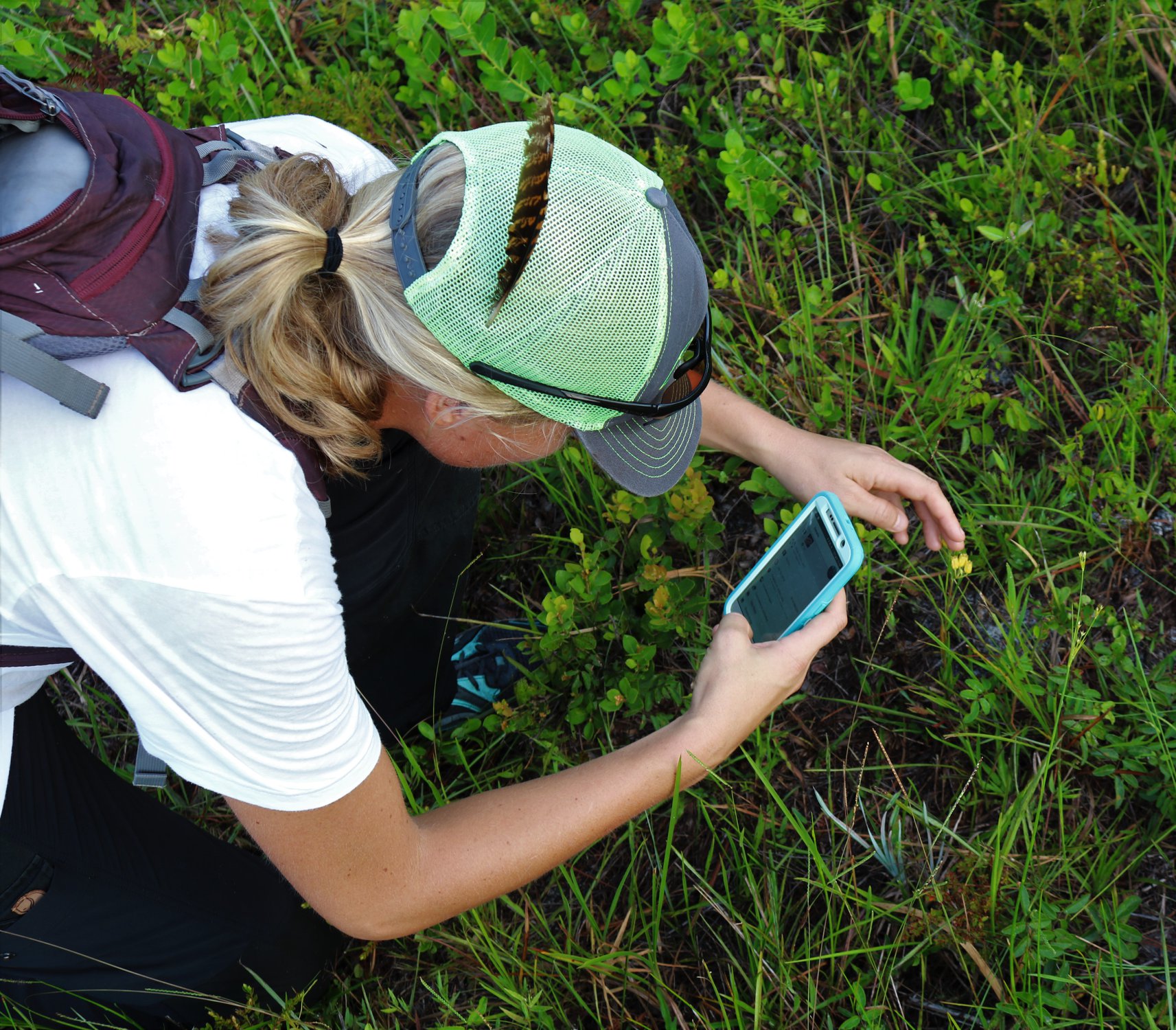 Valerie adding a plant in iNaturalist (citizen science) in Split Oak
Q: Tell me a little bit more about your work at the Florida Native Plant Society. Are people receptive to using OpenStreetMap?
A: The Florida Native Plant Society is a non profit dedicated to protecting, conserving and restoring Florida's native plants and native plant communities. In effect, we have 35 chapters throughout the state who love native plants. Many are experienced citizen scientists, having helped conservation areas create and update their plant lists and contributed their knowledge and photos to our blog, Flickr, and native plant database. I feel they are primed for becoming effective and long-term contributors to the OpenStreetMap project based on their avid volunteer contributions to similar citizen science efforts.
For our 2019 Annual Conference, I added OSM links for trailheads and parking areas for the field trip maps. This went over like a lead balloon. Despite these locations being very accurate and my OSM edits which added the address, name, and some features around the field trip site, the webmaster and people visiting the field trip pages on the website were unimpressed and requested that I switch back to Google Maps.
When you share a link to location with someone in the basic OSM interface it looks something like this: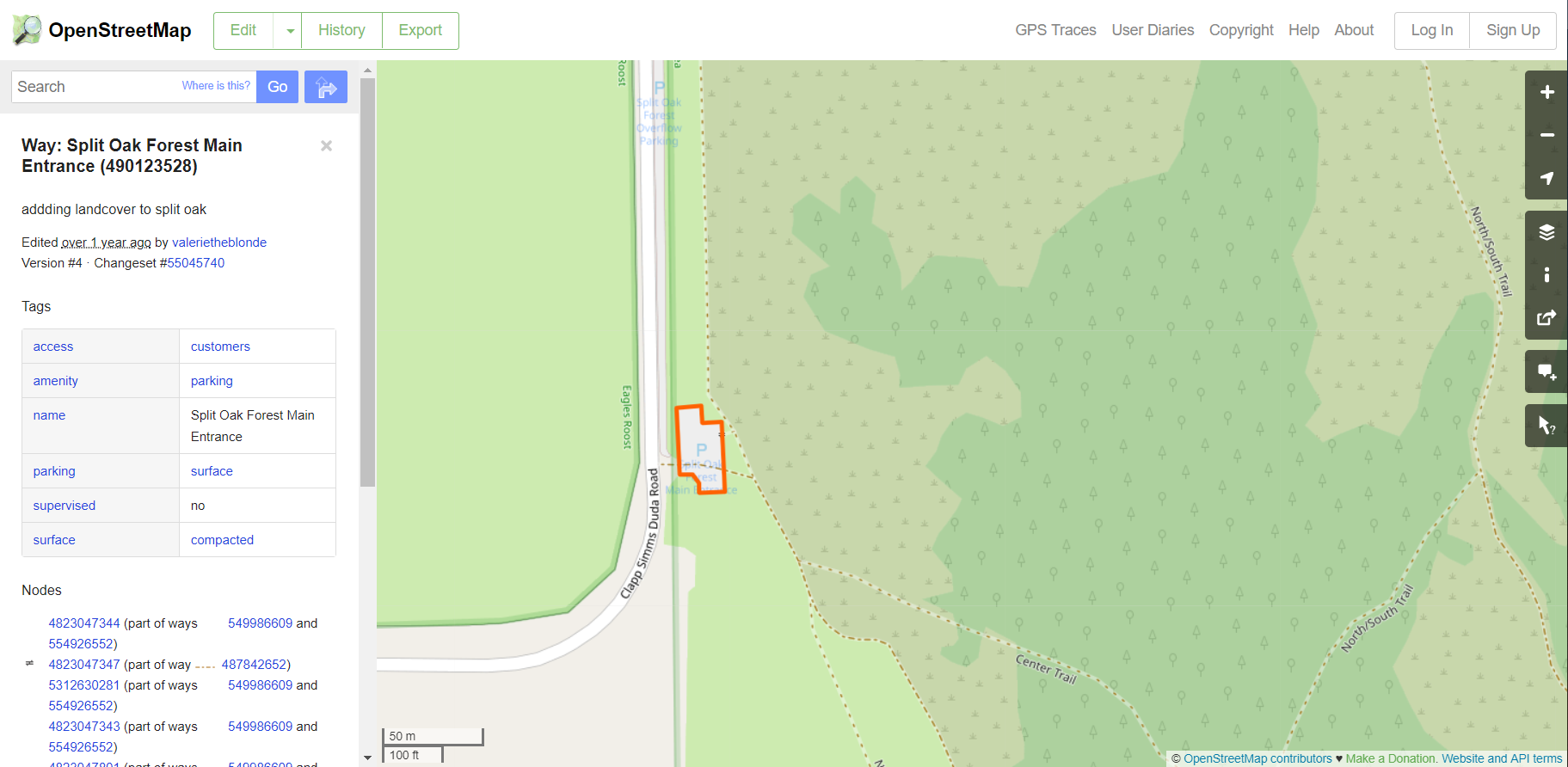 OpenStreetMap screenshot in Split Oak Forest
Even in heavily mapped areas, it's not immediately apparent what you're looking at and there's a ton of superfluous (and very technical and distracting information) in the interface. God forbid if you're looking at this on mobile, where it's quite slow. The directions button is fairly small at the top and isn't similar to Google Maps directions button. Further, within this interface, if you click the directions button, you lose your selected feature, rather than it becoming your destination. There's also no clear way to move this into a navigation program from viewing this on your desktop to your phone. Obviously, there are a number of OSM-based web navigation but other than copy-pasting the lat/long, I'm not aware of a platform-agnostic way to get an entire group of moderately-tech-savvy adults to find a given location within the OSM-ecosystem.
Q: Sounds like you are working hard to advocate for OSM, and I am sorry to hear your efforts were not well received. What are some other challenges you have faced when promoting the use of OpenStreetMap - as a mapper and as an advocate?
A: I've heard complaints that the community is unwelcoming, but I didn't experience any of that. I have had few issues with the type of editing that I do, and minimal conflicts with other mappers (I do not know of any other active mappers in my area). I would like to import data sets but cannot find a reason to spend the 5+ consecutive hours I believe would be necessary to learn the code and write up the wiki page and send the right emails in the right way. I would also like to suggest tagging changes but am similarly deterred from doing so. Another challenge to mapping in Florida is the feeling of futility. Florida is changing so rapidly with development that mapping any pastures, agriculture, coastline, or conservation areas feels pointless.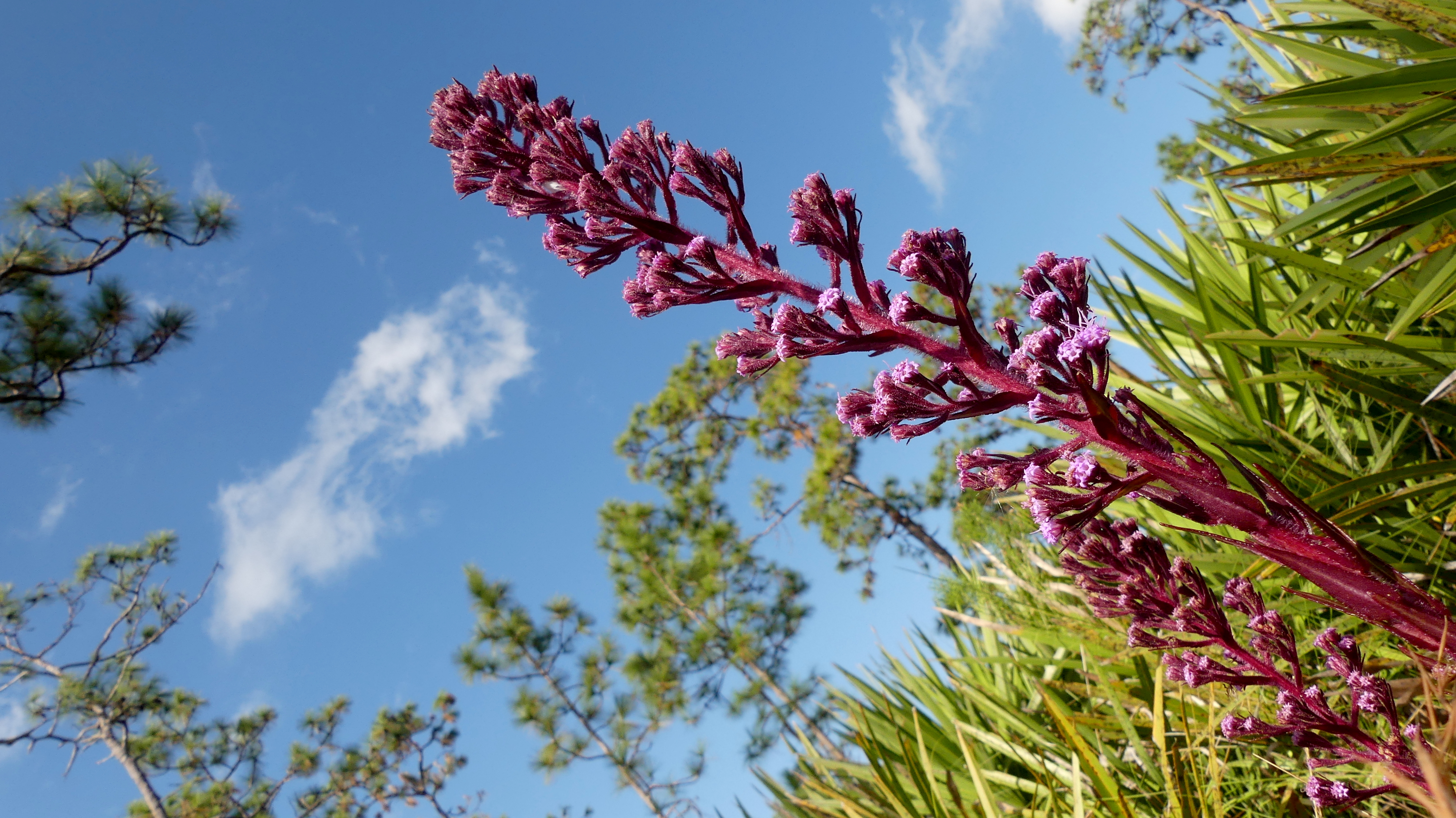 Florida native plant - Hairy chaffhead, Carphephorus paniculata
Q: Can the OpenStreetMap community support your efforts in any way?
A: Massive building and address imports would be the best way to encourage adoption of OSM for navigation amongst the people I'm trying to reach.
Q: Will we see you at SOTMUS or at a local meetup in Florida?
A: I plan to attend SOTMUS in 2020. I don't know of any Florida meetups with the exception of Miami-Dade
Q: How can people reach you if they are interested in talking more about OpenStreetMap in conservation?
A: OSM: valerietheblonde HDYC: https://hdyc.neis-one.org/?valerietheblonde I'm on the Slacks.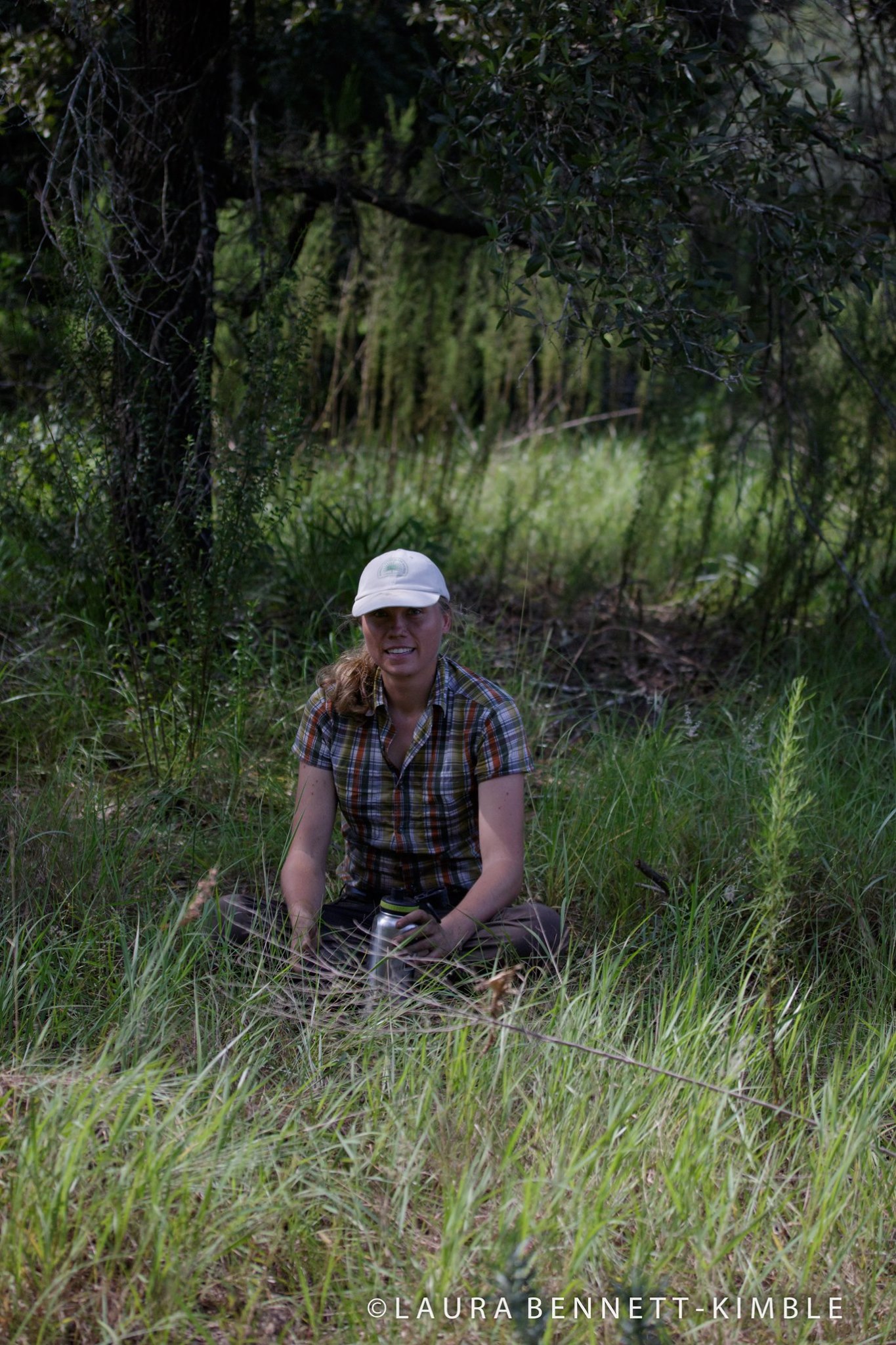 Valerie, totally wiped out after a plant restoration at Lake Louisa State Park. Photo by Laura Bennett-Kimble
Thank you so much for taking the time to share your story. I look forward to hearing more about your work in conservation and helping to expand the OpenStreetMap community in Florida. I hope to meet you in person at State of the Map 2020!
Interested in being our next guest? Message us at team@openstreetmap.us and we'll work with you to craft a blog post to share with the community!