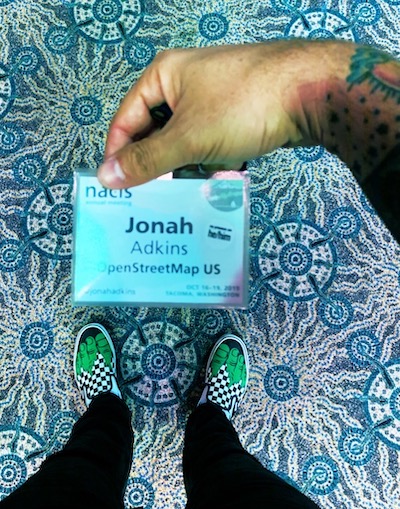 It's a me
Greetings from Tacoma, Washington - the site of the 2019 NACIS conference. NACIS is the North American Cartographic Information Society, a "society of map enthusiasts" that focuses on promoting cartography and cartographers. I was once again excited to attend the annual conference on behalf of OpenStreetMap US to learn all the new ways maps and data are being used by fellow cartographers and of course, to socialize our message of empowering everyone (especially cartographers!) with the free, open-source map of the world. This years conference had 400 over attendees (wow) with over 200 attendees being first timers! (double-wow). Much like our State of the Map US conference, the NACIS annual conference has a great community vibe, and provides an awesome environment that inspires.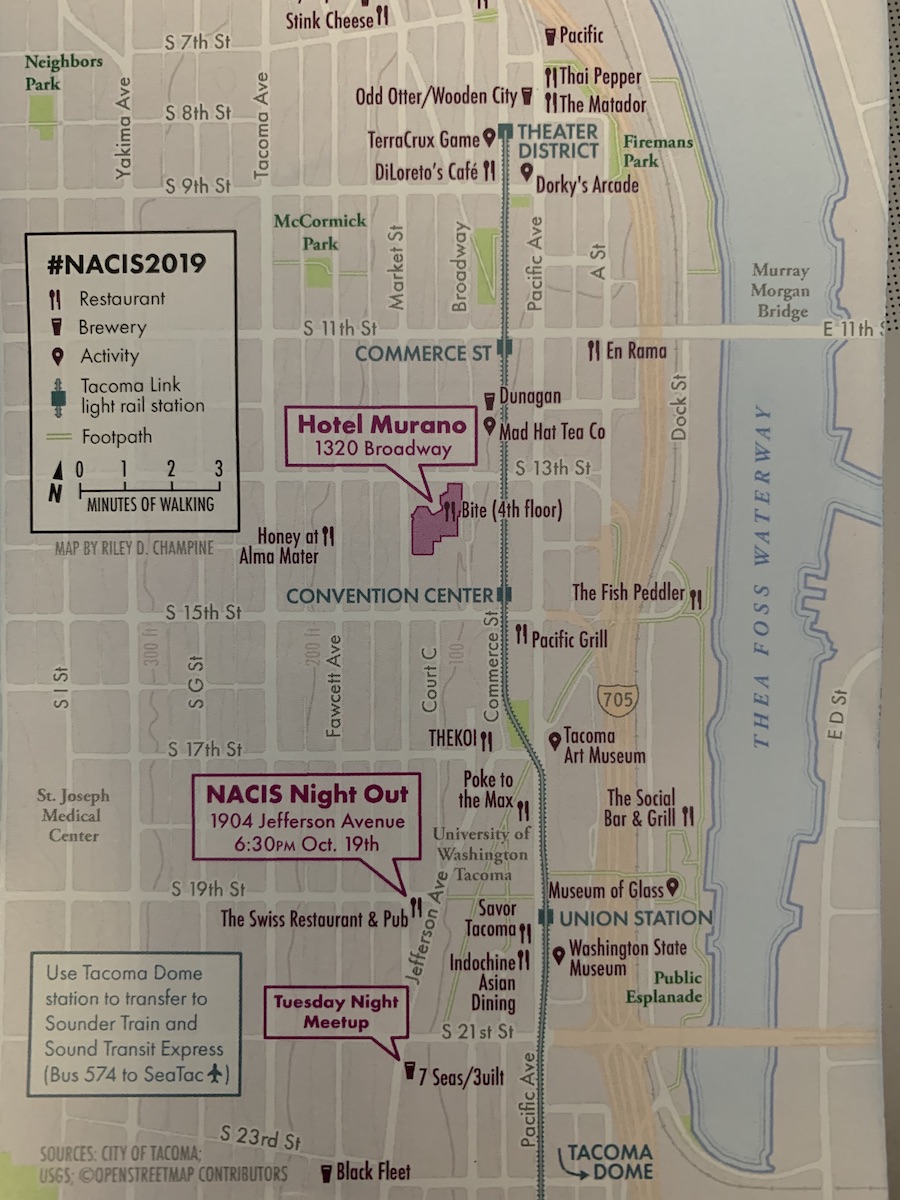 Hey look at that awesome OpenStreetMap attribution on the program map!
The main two conference days featured one awesome talk after the other and it was really hard to choose between the three competing sessions of talks. There were a wide range of presenters from academia, journalism, software, artists, and many other fields. Even I got in on the action and presented on some recent experiments in the vector tile styling of OpenStreetMap data using Tangram, Maputnik, and Esri slides. This year even featured an Open Data track with solid slate of presenters.
The first talk in this track was from Mapillary that provided an introduction into their computer vision and imagery applications. Next up was Eleanor Lutz showcasing her absolutely gorgeous Atlas of Space project, which uses open source tools to map open astronomy data. Next up was a personal favorite, OSMUS/OSMF member Alan McConchie gave an eloquent overview of implementing the boundary=aboriginal_lands tag in the OSM database and renderer Slides.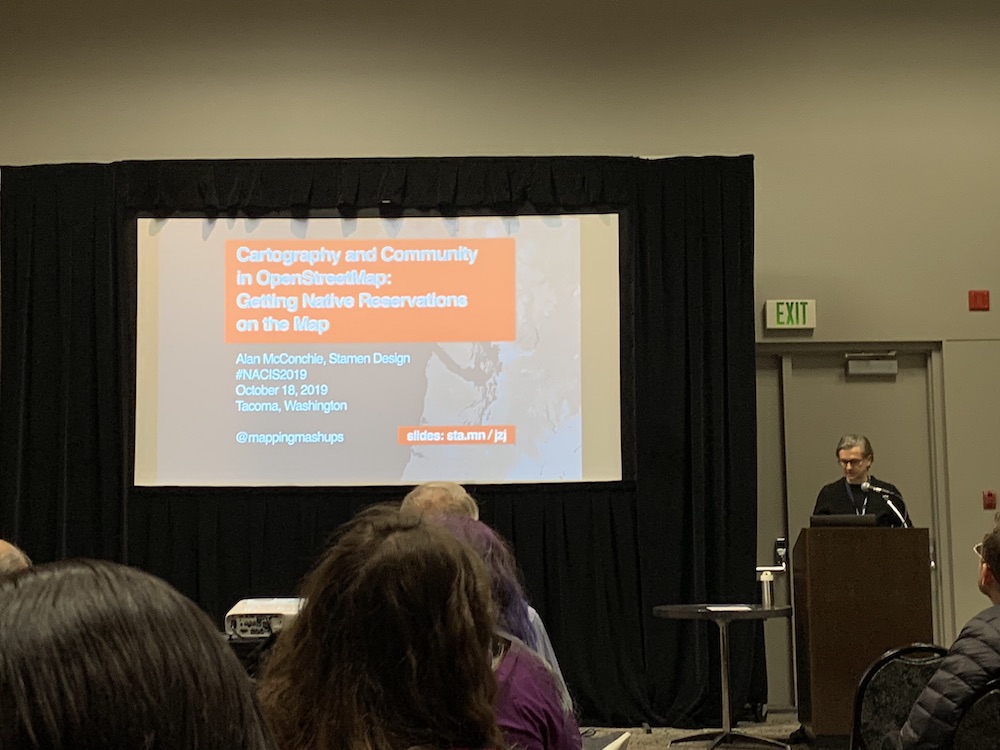 Alan's talk on Getting Native Reservations on the Map
The final talk in the open data track was by Riley Champine with Mapping Refugees at National Geographic Slides. This was a great overview of how open data (and OpenStreetMap) empowered mapping one of the largest refugee camps in the world. Riley even shared this google doc with his Overpass Queries!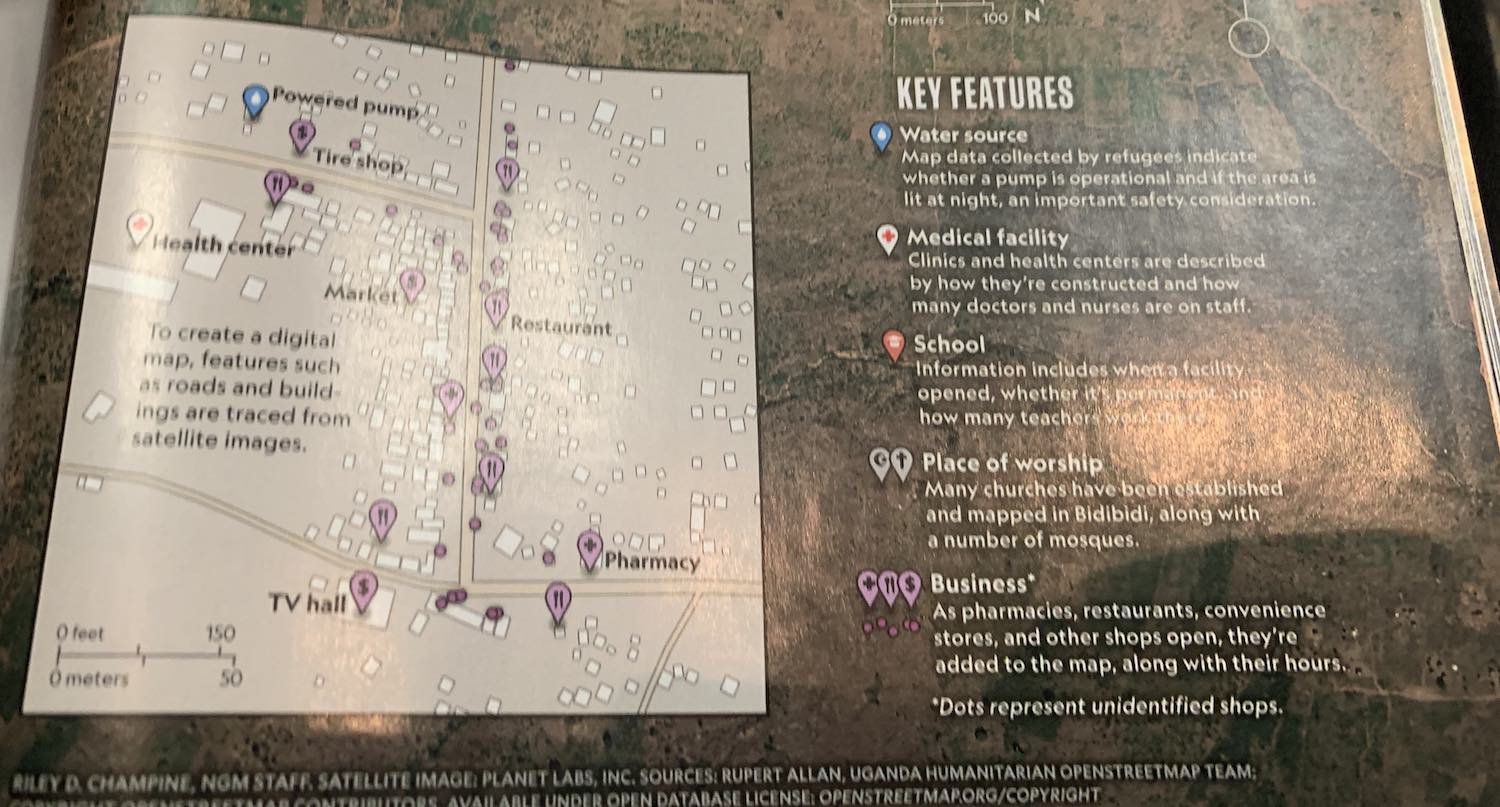 The map featured in National Geographic with OSM attribution!
The conference wrapped up Friday night with a closing keynote by Retired Ambassador to Turkmenistan, Allan Mustard. His keynote detailed his tireless efforts to create authoritative map data while in Turkmenistan, seemingly against all odds. I have to say this talk was literally insane, Amb. Mustard was so well spoken about his work, using the various tools most of use, Overpass, the OSM Wiki, as well as some offline editors.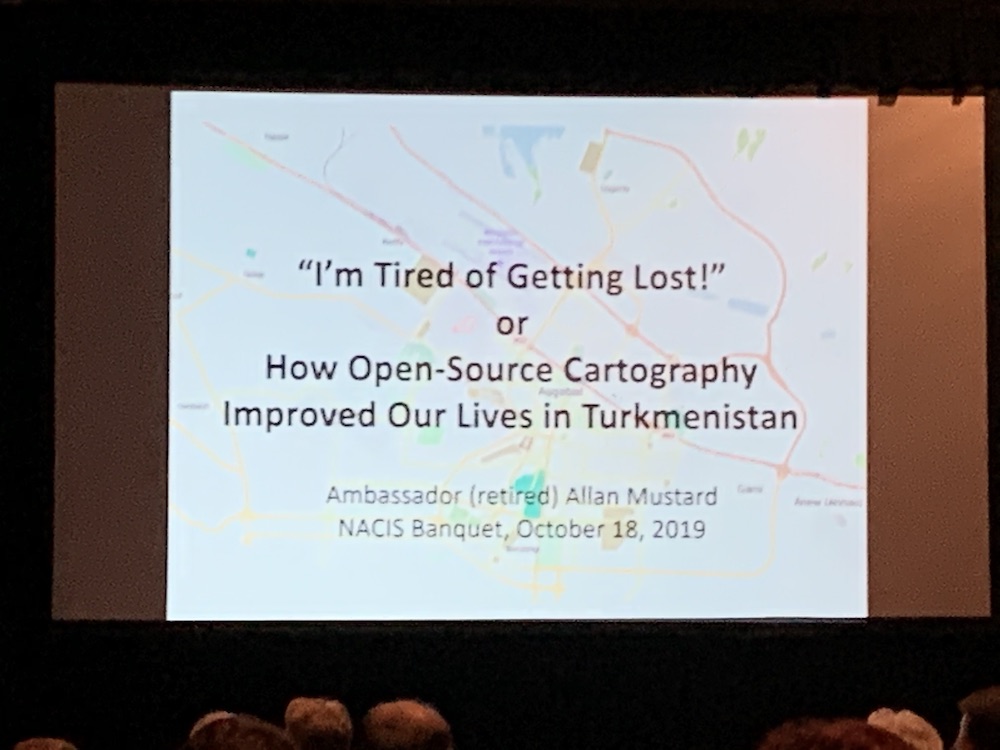 This talk was insane!
I'd enthusiastically recommend becoming a NACIS member and attending next year's event in Minneapolis.
Did you know that OpenStreetMap has a travel grant program? Can we buy pizza for your mapping event? Need some server space for your cool OSM/Cartography project? Please reach out the OpenStreetMap US board or our Executive Director, Maggie Cawley and talk to us - we're here for you!