From November 10 to 16, the mapping community hosted 150+ events supporting tasks, many related to climate change. GIS day was also widely celebrated across the US! This a blog post featuring stories about OSM GeoWeek with contributions from three OpenStreetMap community members - Rachel Levine, Charlie Convery, and Todd Slind.
Do you have a story to tell? OpenStreetMap US news or info to share? Message us at team@openstreetmap.us and we'll work with you to craft a blog post to share with the community!
---
"On Wednesday November 13th, national GIS day, the University of Southern California hosted a MapGive "mapathon" in coordination with the United States Department of State and Open Street Map (OSM). As an organizer, I ensured to start the planning process early to lay the groundwork for a successful event. This included several vital components that were essential to bringing the event into reality.
I started with the online "MapGive in a Box" resource which was the main jumping point for my planning. Here, the Humanitarian Information Unit lays out the fundamentals of hosting a successful mapathon and shows techniques to explain how MapGive functions and how to operate the program. I ensured to market the event early by creating a "Facebook event" two weeks in advance. After inviting friends online, I then spoke in GIS classes and contacted other mapping-oriented student organizations and professors to fuel interest.
During the event, I made sure to project myself mapping and walked the guests step-by-step in using the line and area tools. I then represented good and bad examples of creating data features. We all found OpenStreetMap to be highly intuitive and nearly everyone understood right away. I dedicated time to delegating leadership roles to other GIS students who I knew had used OSM before. They aided me in helping those with computer trouble or questions on the mapping process. This allowed me to continue helping others while overseeing the event and ensuring that everything was running smoothly. Lastly, I printed out stickers and brochures from the "MapGive in a Box" page and purchased pizza and soda to create a fun, light-hearted atmosphere. Overall, I really enjoyed curating this mapathon and it was great to see passionate people coming together to make a difference. I can't wait to start mapping again!" ~Charlie Convery, 20, USC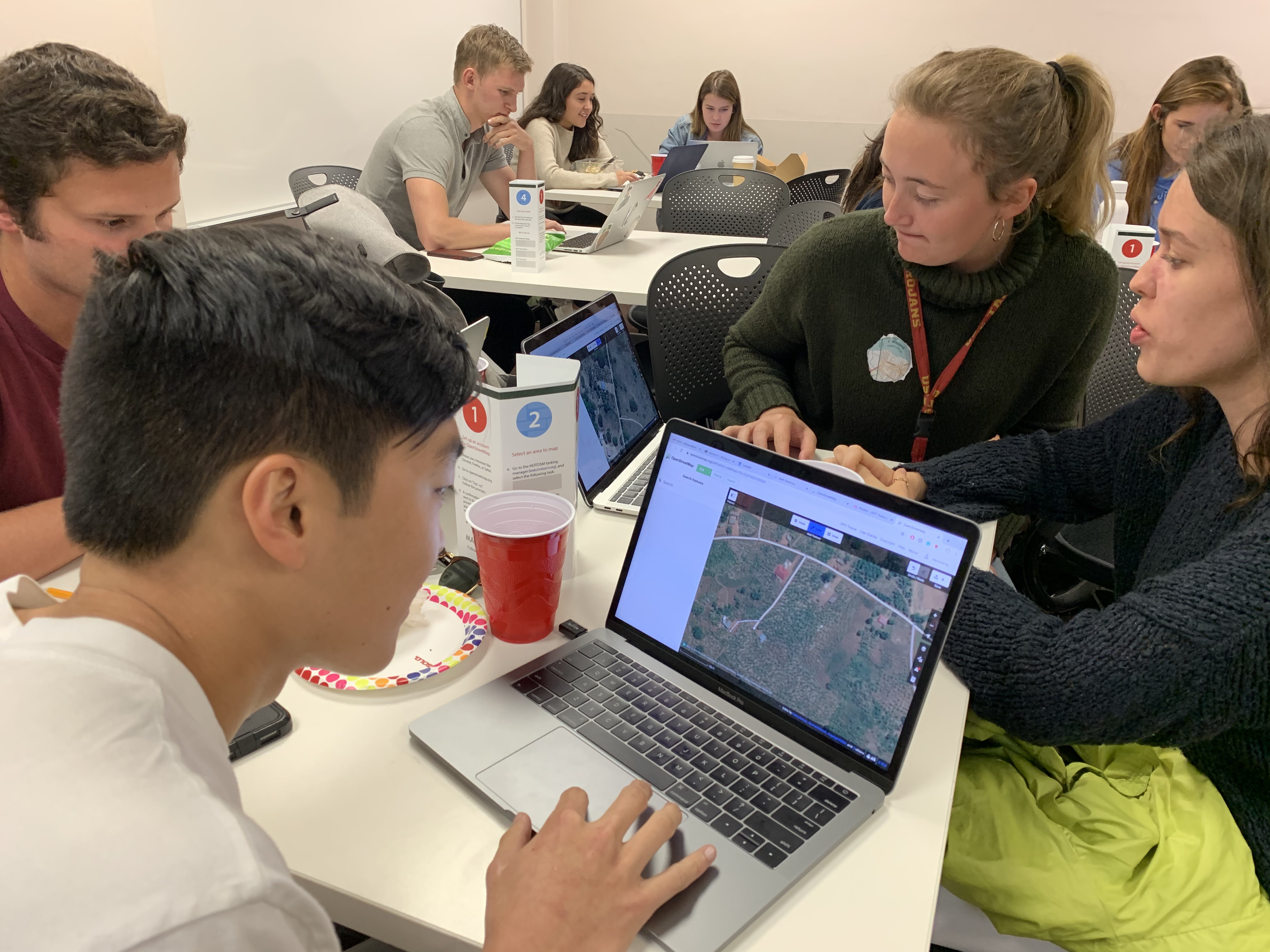 Mapathon at USC
"The DC Missing Maps Volunteer Team with the American Red Cross hosted a validation mapathon at Midlands Beer Garden. Attended by both new and experienced validators, the event worked on a Philippines project for the Red Cross Climate Center." Rachel Levine, Missing Maps
"The Critigen OSM Team have been active contributors and users of OSM for a decade. We've been fortunate to help launch portable open street map (POSM) and OpenMapKit (OMK), make enhancements to iD and JOSM and put OSM data to work on a number of projects around the globe. For this year's GeoWeek, we decided to give our entire company a chance to contribute to OSM and hopefully lead mapathons in their home communities. One of the tools our team uses to analyze OSM Quality is Atlas-checks. This allows us to download a chunk of OSM and check data integrity on a variety of important issues. We ran checks on 26 cities (24 in the US and 2 in the UK) and generated more than 20,000 tasks in 104 challenges which you can find on MapRoulette. Our team is already working hard on these but we welcome you to join in! You can find them here." ~ Todd Slind, Critigen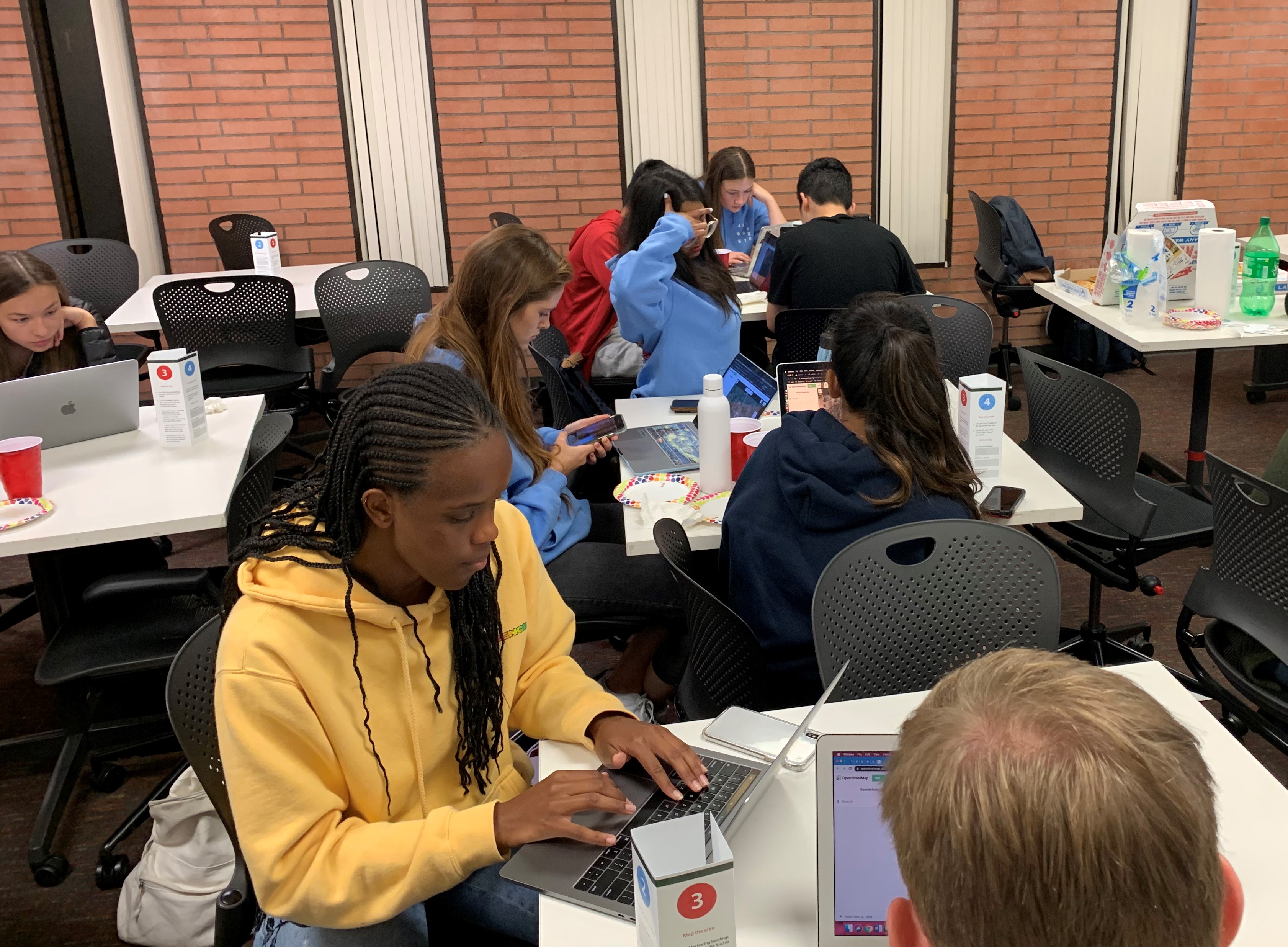 Mapathon at USC
Interested in being our next guest contributor? Message us at team@openstreetmap.us and we'll work with you to craft a blog post to share with the community!