This a guest blog post featuring OpenStreetMap community member Celeste Reynolds. Do you have a story to tell? OpenStreetMap US news or info to share? Message us at team@openstreetmap.us and we'll work with you to craft a blog post to share with the community!
---
Hi Celeste and welcome to the OpenStreetMap US Blog! Please tell us a little bit about yourself and your involvement in OpenStreetMap.
Greetings OpenStreetMap Community! I am Celeste Reynolds, and for the past 19 years I have been teaching at Mashpee Middle/High School in Mashpee, MA. About six years ago I was introduced to OpenStreetMap (OSM) by Shawn Goulet, who is a member of the TeachOSM team. At the time Shawn lived on Cape Cod and he reached out to me asking to meet so he could introduce OSM and hopefully help me integrate OSM into my classroom. Shawn met with me one early morning at 7 am and showed me how OSM works. At first I was not sure how I would use OSM into my classroom until I attended the American Geographical Society Conference in the fall of 2015. That is where I met the TeachOSM team and was introduced to Humanitarian Mapping. Instantly I saw how I could incorporate OSM into my classroom. It was an "AH HA" moment, a light bulb went off, and I became determined to bring OSM into the classroom. Teaching my students how to map vulnerable communities around the world was a way for me to integrate a service learning component to my classroom that would help develop student digital citizenship. When I got home from the conference I emailed Shawn and asked him to come to my classroom and help me integrate OpenStreetMap into my AP Human Geography class. Later on, Shawn asked me to co-present with him at some local teacher conferences about using OSM, and we hit the road and began presenting at different conferences in New England. Over the past 3 years, we have presented at ten teacher conferences educating and encouraging other teachers to use OSM in their classroom. This past year I was asked to join the TeachOSM steering committee which has been a huge honor, and so much fun!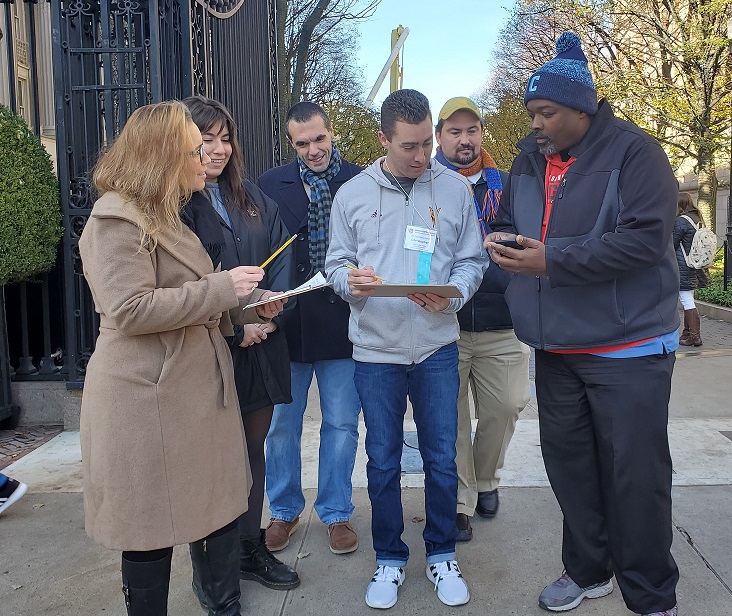 AP Human Geography teachers mapping Queens, NY using Field Papers
How do you go about integrating OpenStreetMap into a high school classroom?
The first year I used OSM in my classroom my goal was to have my students map one project. To be honest I was nervous about introducing OSM to my students when I didn't feel like I knew very much about OSM. When a teacher introduces new technology into a classroom it can be very intimidating because you have no idea what problems you will face and if you will be able to answer all the student questions. There is one of you and many of them! However, I decided to try one project and see how it would go. I figured if I didn't try I would never learn if it would work. My students picked it up rather quickly and really enjoyed mapping, so then next year I set a goal of mapping two projects. Now, over the course of the school year I try to have my AP Human Geography students map at least three to four projects during the school year. Most of the time we do humanitarian projects on a more global scale, but my students have participated in AGS sponsored competitions where students work on mapping projects on a local level. Over the years I have had senior students who loved editing OSM in AP Human Geography class and wanted to do a senior project incorporating OSM. One student organized a community mapathon. Today I am working with a senior student who is helping me create an OSM student club by organizing several after school mapathons with the Human Rights Club and local community members. We are building a website and a club logo to launch our OSM initiative. We are calling it teenMaptivists: Changing the World One Click at a Time…the gift of mapping. Many students who have done OSM in APHG want to continue to map and are asking for a more organized way they can get together and map projects together. It is cool to see that introducing OSM to students gets them excited about OSM and wanting to continue to be part of the OSM community. So we are trying to create opportunities where students can gather and continue to contribute to OSM projects as a collective community.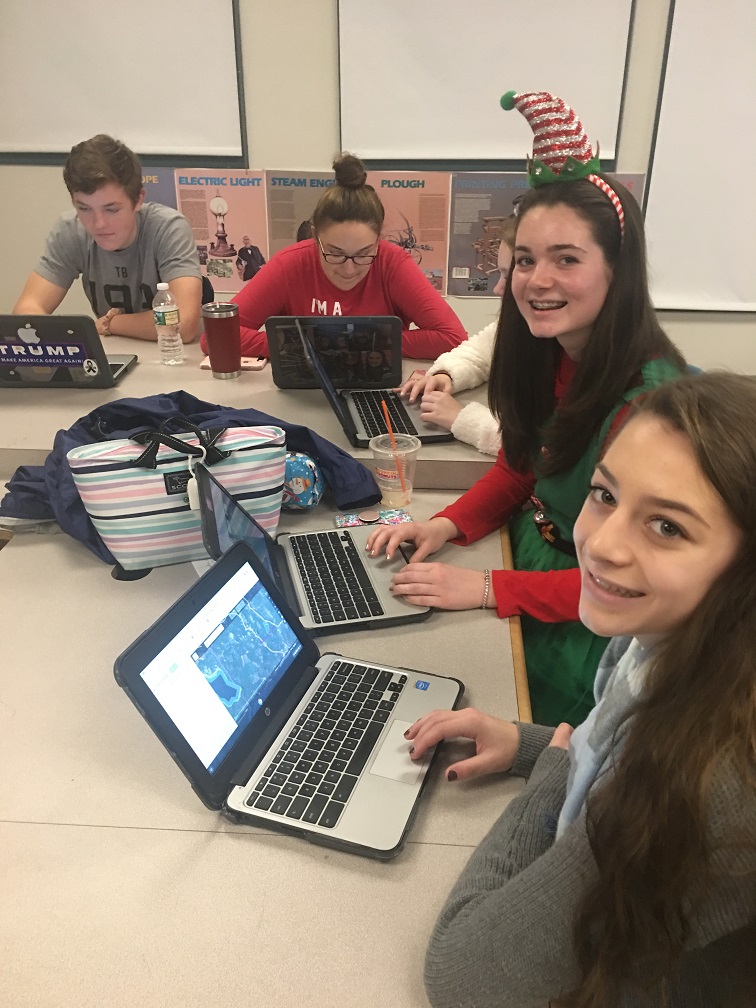 APGH Students using OpenStreetMap in the classroom
Are teachers receptive to using OpenStreetMap in classrooms?
Yes and no. I know I have heard some teachers say, "this is just drawing boxes", but I push back and say this new technology allows people to contribute to mapping. Anyone can be part of the map making process, and contribute to areas around the world that might have not ever been mapped before. It is important to understand the purpose of editing and adding data to OSM and understand that the boxes a person is making are valuable information to vulnerable communities and provide them with data that will change how they make decisions in their community. Often people think sending money or material items are the only way to help vulnerable areas, but I like to say, information can be just as valuable to a community, so get mapping and help change a community. Some teachers love the concept but are nervous about introducing new technology to students. This is totally understandable. It is nerve racking to introduce any new technology to students when there is one of you and 30 students. However, TeachOSM has a great website teachers can use to start using OSM in their classroom. In addition the TeachOSM team is very supportive and will help any teacher answer any questions they might have as they begin introducing OSM into their classroom. When speaking to other teachers I encourage them to just start with one project during the year. I also recommend finding projects that will help reinforce what you are talking about in class. For example, one year we were talking about refugees in class and I went on HOT and found a project (#3939 - Bangladesh Population Movement - Kutupalong camp and surrounding settlements) The mapping project was an extension activity which many students appreciated because they were able to help refugees fleeing to safety. They began to understand how contributing OpenStreetMap was helping refugees and the organizations who were trying to help the refugees. It was a very powerful learning experience for the students
Over the years I try to incorporate more mapping projects, and like anything else the more a teacher uses it in the classroom the easier it becomes. Remember it's about introducing students to the OSM community and hopefully they will continue to be part of this community or understand how this community works. So when they become leaders in their community they will understand how they can collect this kind of data for their communities. OSM is a fantastic way to incorporate service learning into the classroom which helps students develop the following:
Students become more motivated and engaged which will help lead to higher achievement
Students make connections between curriculum content and the world around them
Students develop critical and creative thinking skills
Students gain a greater sense of responsibility, empathy, acceptance of diversity, and concern about the welfare of others
Students become more responsible, politically engaged citizens with a strong sense of equality and social justice
Using OpenStreetMap is a win-win and I wish more teachers would introduce their students to it and realize we can help communities around the world one click at a time.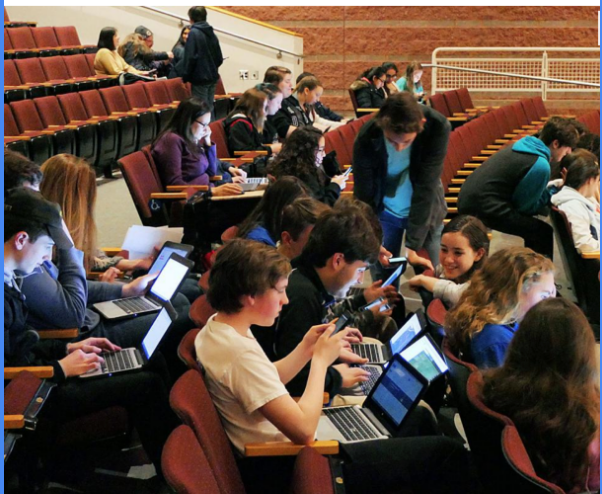 Mashpee Falcons learning about OpenStreetMap
What are some other challenges you have faced when promoting the use of OpenStreetMap - as a mapper and as an advocate?
Many people don't know what OSM is and don't even realize how many applications use it and that they personally benefit from OSM. It is so important to get the word out to people what OSM is and how it helps people all over the world.
How can the OpenStreetMap community support your efforts?
Advanced OSM users, please reach out to your local school and find a teacher who will work with you introducing OSM into the classroom. I know having Shawn by my side every step of the way really made an impact and gave me the self confidence I needed to introduce new technology to my classroom. Having Shawn as my mentor was huge and if other OSM users mentored teachers like he mentored me the OSM community would gain so many new users. The best way to get more teachers to try it is to give them that extra support in the classroom.
In addition, TeachOSM would like to build tools that are made to support teachers such as a learning sandbox, grading tools, better integration of Tasking Manager. If anyone in the OSM community is willing to use their expertise to help develop these tools, I am confident they would be very valuable in supporting teachers to start educating with OpenStreetMap in their classrooms
Where should people look if they are interested in talking more about OpenStreetMap in education?
TeachOSM is a great online resource teachers can use to learn about OpenStreetMap themselves and then get their students started on a mapping project. TeachOSM will also be releasing an online mapping guide in the coming month to further support remote mapping and educational efforts.
With remote learning upon most of the country or world right now, OpenStreetMap is a great way for teachers to get students involved in service learning. Teachers can help students register for an account and have students map a project somewhere in the world. Teachers create a hashtag for their students such as #MashpeeFalcons that students use to tag their edits in the project and the teacher can track how many edits students make in the project. Service learning is a great way to get students engaged in the world and helping others in need, especially at a time when students are probably feeling a little helpless at home and unable to go anywhere.
Check out the TeachOSM website for resources to use in the classroom. If anyone wants to talk to me they can email me and I will be happy to answer any questions. I also have a website to help explain to teachers how I have used OpenStreetMap in different classes.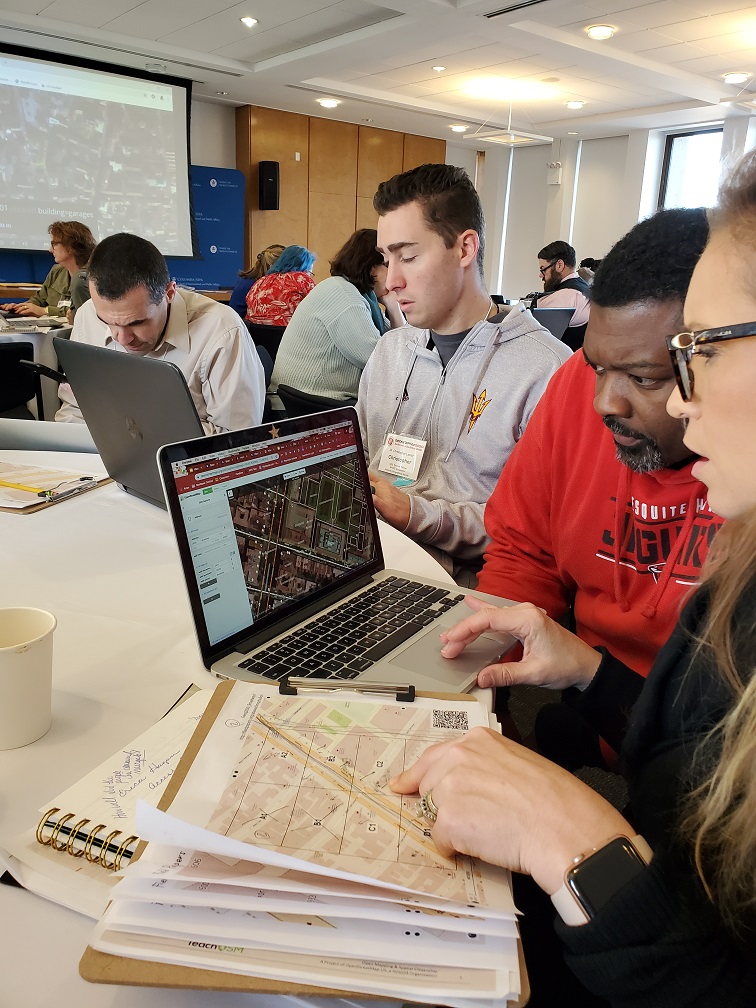 TeachOSM workshop for APHG teachers at the Geography2050 conference
---
Thanks to Celeste for sharing her story! Interested in being our next guest contributor? Message us at team@openstreetmap.us and we'll work with you to craft a blog post to share with the community!