Nearly 60% of buildings in the United States are located in a disaster hotspot1. If a disaster were to strike your home, what is in your emergency go bag? Extra food, water, clothes… What about OpenStreetMap?
OpenStreetMap has been used by disaster responders and for resiliency efforts around the globe formally since 2010, largely led by the Humanitarian OpenStreetMap Team. While the direct impact may seem clear in parts of the world where geospatial data can be scarce, mapping in OpenStreetMap can be just as critical for resilience and response here in the US.
Nicole Martinelli is the founder of Resiliency Maps, a project designed to get hazard and emergency resource maps into the hands of San Francisco residents using OpenStreetMap and other open source tools. During our June 2021 Mappy Hour, Nicole explained that even the most affluent, tech-dense cities in the US face challenges when it comes to getting usable data (and maps) into the hands of those that need them. She and her team of volunteers have been using OpenStreetMap to not only bridge this gap locally but to assist community responders with maps designed to help them respond effectively during disasters.

Handwashing and pit stop map developed by Resiliency Maps in response to COVID-19. Image Credit: Resiliency Maps
While most of us in the United States have map applications readily in our pocket, this ease of access does not necessarily mean that first responders and local communities, or even residents reacting to a disaster, have the geospatial information they need in the form that makes the most sense. Resiliency Maps has shown how OpenStreetMap allows local communities and organizations to create and use the data to fit their local and unique use cases such as helping residents access services during the pandemic or making distraction-free maps for community responders. Importantly, this data can also be readily used offline - something that can quickly become vital when communications or electrical grids are out of service.
Rob Savoye, a local OpenStreetMap volunteer and firefighter in northern Colorado has been mapping his local area for years. According to Rob, the level of detail in OpenStreetMap on road conditions, addresses, trails, distributed campsites, and other features has cut their response time in half. An added benefit - by reducing response times, not only has OpenStreetMap improved the fire district's ability to respond and save lives but it has also reduced homeowners insurance for local residents.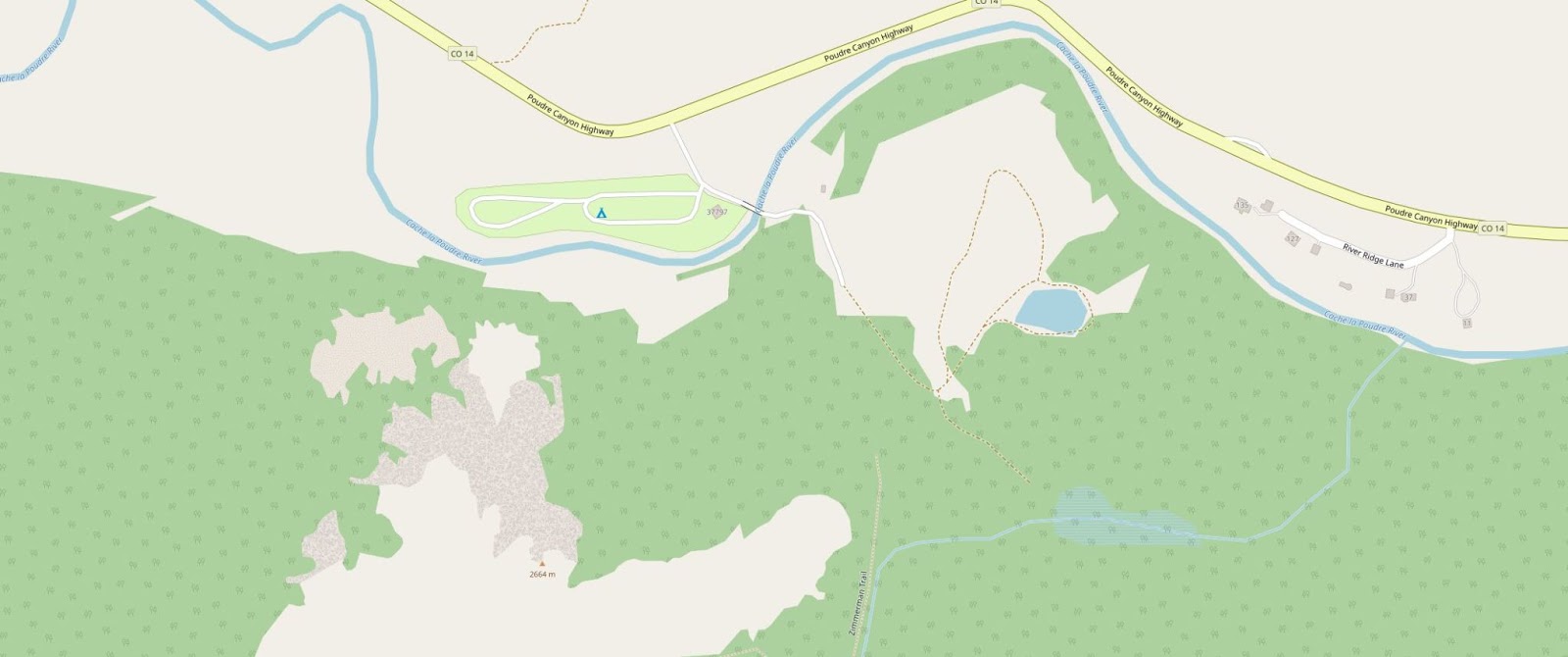 Example of map detail in OpenStreetMap assisting fire districts in northern Colorado. Image: OpenStreetMap
Beyond direct disaster response and community resiliency efforts, OpenStreetMap has become a significant tool for researchers and modelers to predict and understand how disasters will impact us in a rapidly changing climate. Models like Flood Factor use OpenStreetMap (among other sources2) for building footprints to help identify flood risks across the United States. Additionally, OpenStreetMap datasets such as emergency facilities can also be used to understand equitable access to services.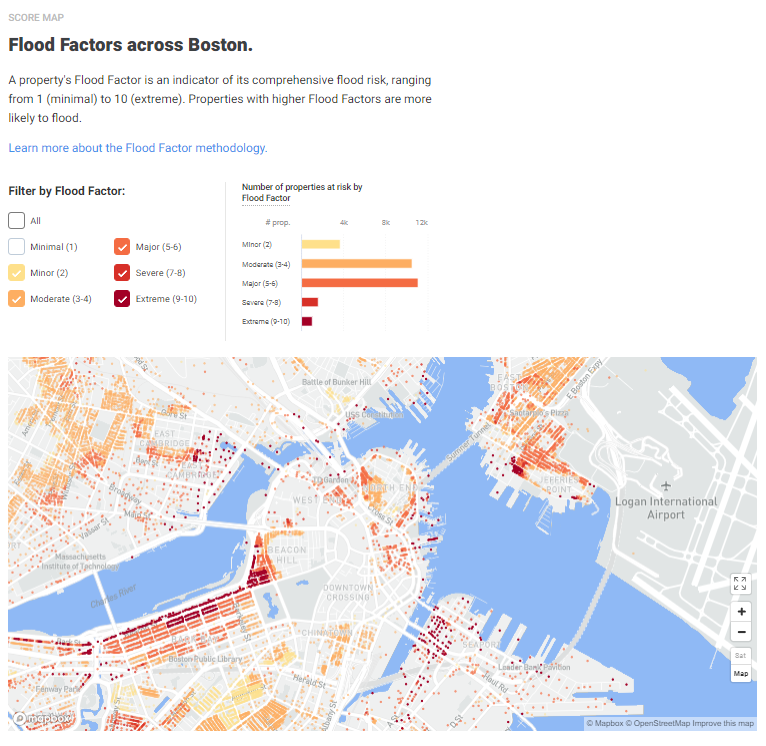 Modeling by Flood Factor using OpenStreetMap building footprints in Boston. Image credit: Flood Factor, a product of First Street Foundation
How you can support
June is the official start of the Atlantic Hurricane season and in many parts of the country it is the time of year when wildfires begin to rage here in the US. In light of this, OpenStreetMap US is highlighting the importance of OpenStreetMap for disaster response and resiliency as part of the #12MonthsofOSM. Here are just a few ways you can support resiliency in your neighborhood by mapping in OpenStreetMap:
1. Complete the basemap in your neighborhood (and keep it up to date)
Did you know that FEMA lists OpenStreetMap as the most up-to-date building and road network dataset following disasters in its Crowdsourcing Toolkit for emergency managers3? With more government agencies and private companies using OpenStreetMap as their direct basemap or indirectly through map services such as Mapbox and ESRI, the OpenStreetMap community plays an important role in keeping the map up to date to ensure that those relying on OpenStreetMap data can know where people and resources are in times of emergency.
Russell Deffner, Humanitarian OpenStreetMap Team's Disaster Response Coordinator and former firefighter, explains that building footprints and road networks are critical datasets that emergency responders need. Knowing how many structures exist in an area can help determine and predict the number of people that need assistance while road network data can support logistics and navigation. Following Hurricane Maria in 2017, FEMA and the American Red Cross utilized OpenStreetMap building data to provide individual assistance and on road data for damage assessments.
Adding local knowledge about the conditions and details of this infrastructure can also improve response capabilities. During the Cameron Peak wildfires in northern Colorado in 2020, OpenStreetMap data on buildings and addresses were added by local mappers, which proved useful for firefighters doing structure protection. Jeep tracks and other road network information was also added to OpenStreetMap that was not available on other maps. This data assisted wildfire crews with access and navigation, according to Rob Savoye. (Help us complete these mapping efforts on the OSM US Tasking Manager.)
2. Map hazardous features (especially as they change)
As Nicole described in her Mappy Hour presentation, OpenStreetMap is able to capture two components often overlooked, but crucial to disaster mapping: the geolocation of hazardous infrastructure and materials, and temporal changes.
Walk around your neighborhood and consider what could become a hazard in the event of an earthquake, tornado, or another disaster. Mapping these locations not only help you prepare, but ensure that they are on the map for others that rely on OpenStreetMap. The level of risk these features pose also changes with time but can be documented in OpenStreetMap - a building under construction poses a different risk to nearby residents in the event of an earthquake than after its completion. OpenStreetMap is unique in its potential for temporal accuracy when kept up to date by local mappers.
A few ideas from Nicole on what to map:
Car (and other vehicle) repair shops: shop=car_repair

Construction sites: building=construction; landuse=construction

Gas stations: amenity=fuel

Buildings and features that are potentially hazardous are important to map for disaster preparedness. Image: OpenStreetMap
3. Map emergency infrastructure in your neighborhood
There are nearly 30,000 fire stations in the United States4 but less than 17,000 are mapped in OpenStreetMap. Knowing where emergency services exist can help identify where services are not available - which is particularly important for underprivileged neighborhoods. In addition to your local fire stations, go out and map the other emergency services available in your neighborhood such as defibrillators, fire hydrants, and hospitals. Check out the Emergency page on the OSM Wiki for how to map these and other related features.
MapComplete (developed by members of OSM Belgium) makes it simple and easy to map emergency services with its project for mapping hydrants, extinguishers, fire stations, and ambulance stations.

Visualization of hydrant and fire station mapping in MapComplete.. Image: MapComplete
Does your local area have emergency services that are unique to your region and its hazards such as tornado shelters or tsunami evacuation sites? Consider prioritizing these data points as this data may not be as readily available to the public or local community response teams.
4. Support local responders directly
Reach out to (and join) your local Community Emergency Response Team (CERT) to see how you can support their efforts while advocating for OpenStreetMap. Your volunteer support could range from closing data gaps to helping develop localized response maps.
Have you seen OpenStreetMap used in disaster response and resiliency mapping efforts here in the United States? Share it with us on Twitter @OpenStreetMapUS.
---
1 https://www.npr.org/2021/06/23/1009062465/more-than-half-of-u-s-buildings-are-in-places-prone-to-disaster-study-finds
2 https://firststreet.org/flood-lab/published-research/flood-model-methodology_overview/
3 https://www.crowdsourceem.org/tools-platforms/platforms-with-crowdsourcing-applications
4 Figure as of 2018; https://www.nfpa.org/News-and-Research/Data-research-and-tools/Emergency-Responders/US-fire-department-profile