In 2021, OpenStreetMap US continued to grow and engage with mappers across the country despite continued challenges thanks to the enthusiasm and dedication of this great community. This month, join me in acknowledging and celebrating our 2021 wins. I am inspired by the time, energy and support of new and longtime community members, and look forward to what 2022 will bring. First, let's reflect on some of these initiatives from 2021.
With Gratitude,
Maggie Cawley
Executive Director
OSM US Virtual Mappy Hours in 2021
We continued to host virtual Mappy Hours across a wide range of topics and began hosting twice-a-year GeoLadies meetups. Thank you to the 22 guest speakers that shared their work and interests with the community and 275 participants that joined the conversation. Recorded 2021 presentations can be found here. Stay up to date with all upcoming Mappy Hours (and other virtual events) on the wiki.
Don't miss the next event January 26, 2022 at 8:00pm ET!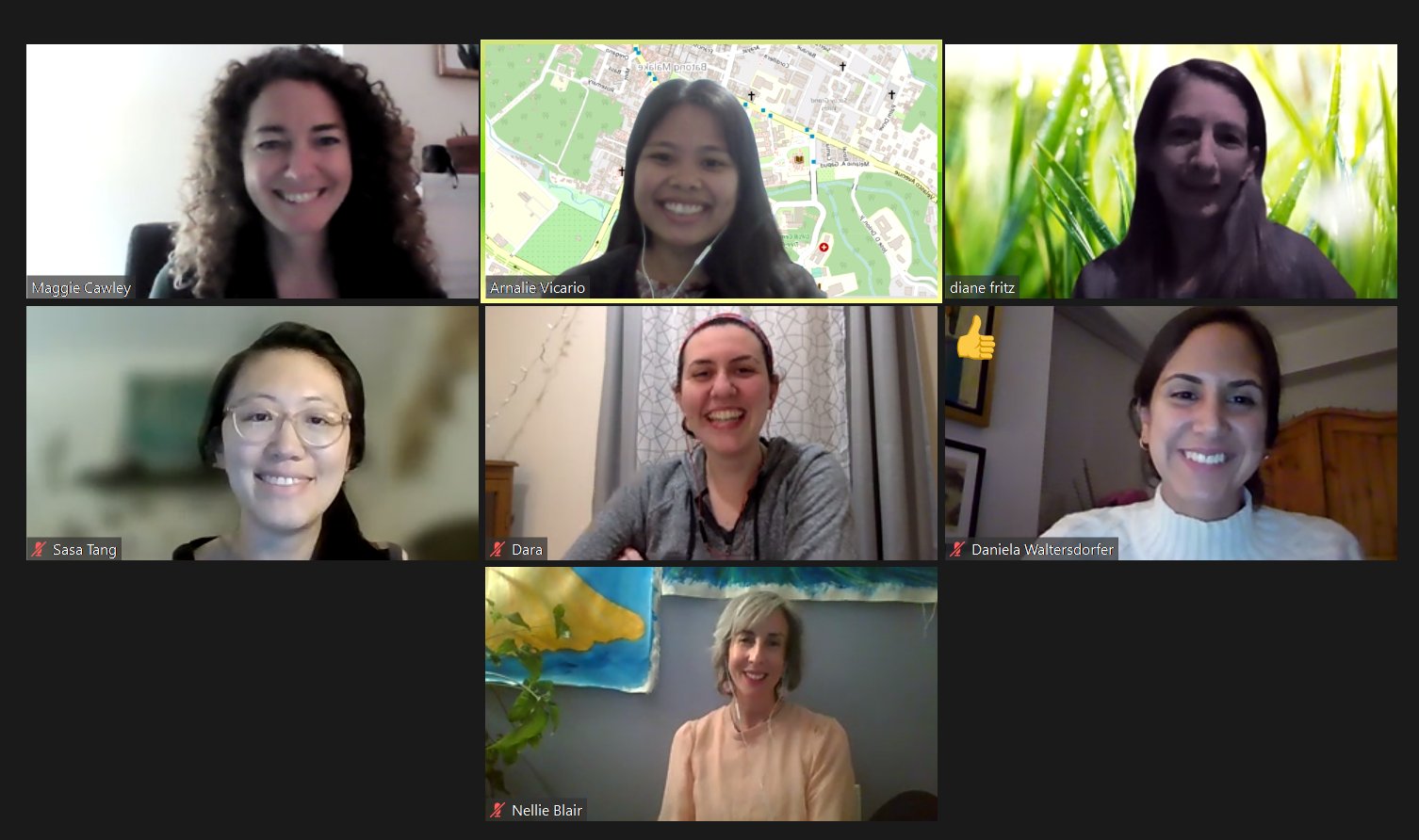 OpenHistoricalMap Became a Charter Project
In May 2021 OpenStreetMap US welcomed OpenHistoricalMap, a well-loved project in the OpenStreetMap ecosystem, as one of our Charter Projects. OpenHistoricalMap (OHM) has the daunting mission of building the world's most universal, detailed, and out-of-date map leveraging OpenStreetMap's open and free software stack. As a Charter Project, OSM US provides the overhead and nonprofit management that elevates OHM's organizational capabilities and legitimacy for fundraising, partnering with academic institutions, libraries, and local historical societies. Interested in learning more about OpenHistorical Map or Charter Projects? Check out the Mappy Hour hosted by Richard Welty in October 2021 or visit the wiki.
Mapping USA
In May, we took a virtual tour of OpenStreetMap across the US during our Mapping USA virtual conference. With State of the Map US on hold due to the pandemic, we decided to kick off the summer with a free virtual event which included an informal mappy hour, talks, workshops, birds of a feather sessions, and mapathons. Thank you to our sponsors Critigen and MIcrosoft and to the speakers, volunteers, and attendees who made this virtual event fun! Missed the fun or want to rewatch your favorite talks? Check out the recordings here.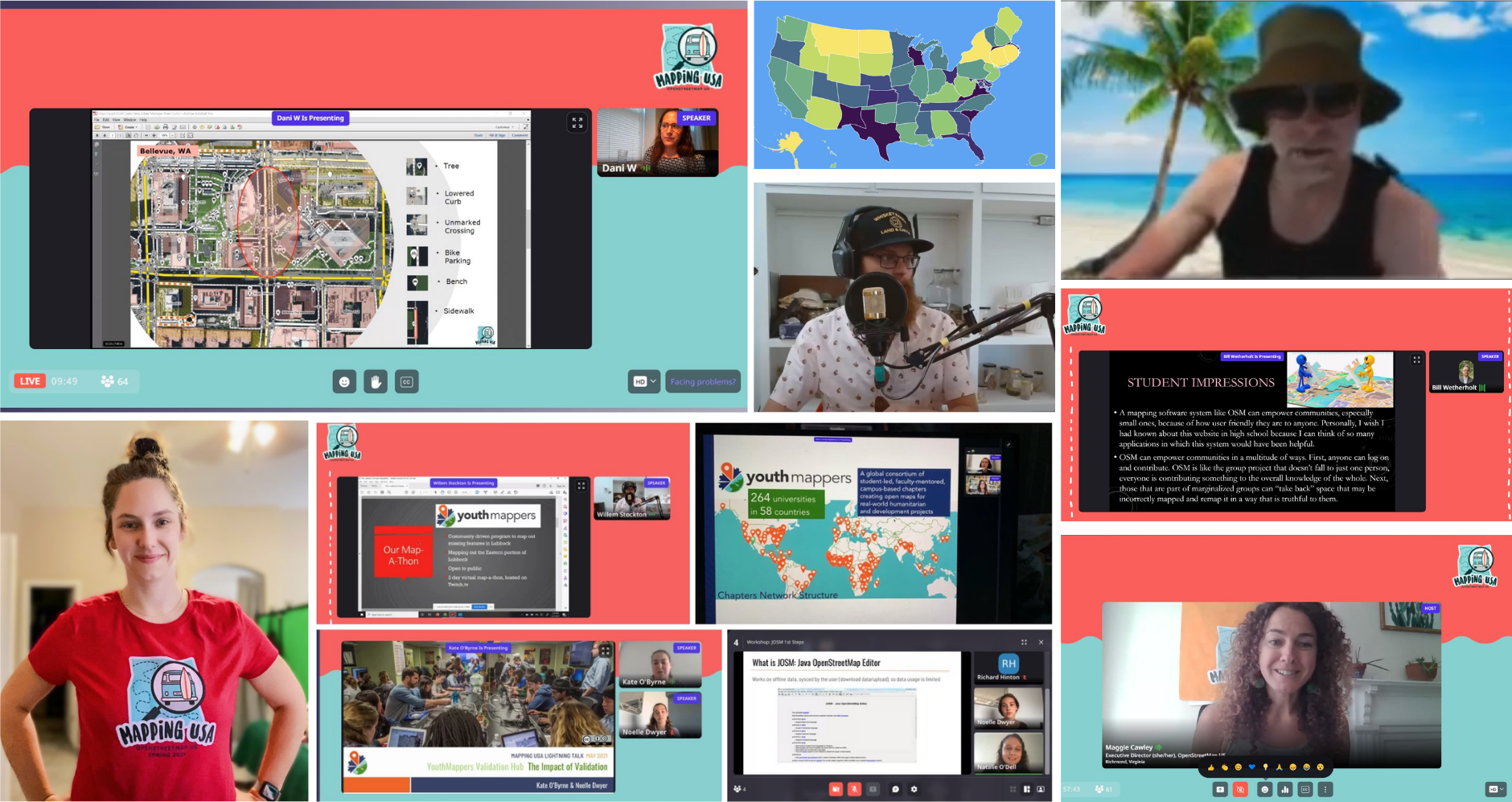 Merging Paths with the Trails Working Group 
In October 2021, individuals came together virtually to discuss how the OpenStreetMap community can better support responsible recreation and use of OpenStreetMap trail data in the US. Since then, this conversation has developed into the Trails Working Group with representatives from the OSM US mapping community, land management agencies including the National Park Service, US Forest Service, and US Geological Survey, and companies that develop navigational apps. Learn more about the Trails Working Group's approach and how you can get involved in our latest blog post!
Mapping for Impact
In July, OpenStreetMap US launched our newest program - Mapping for Impact. Inspired by OSM communities around the globe and recognizing the many equity challenges we face here in the US, the Mapping for Impact program supports organizations in the civic, environmental, and social sectors to solve targeted challenges and data gaps across the US using OpenStreetMap.
We kicked off the program in partnership with KABOOM! to map playspaces in Philadelphia in support of their mission to end playspace inequity. In less than 2 months, the OSM US community mapped and validated 100% of playspaces in Philadelphia adding or improving 3,290 total features.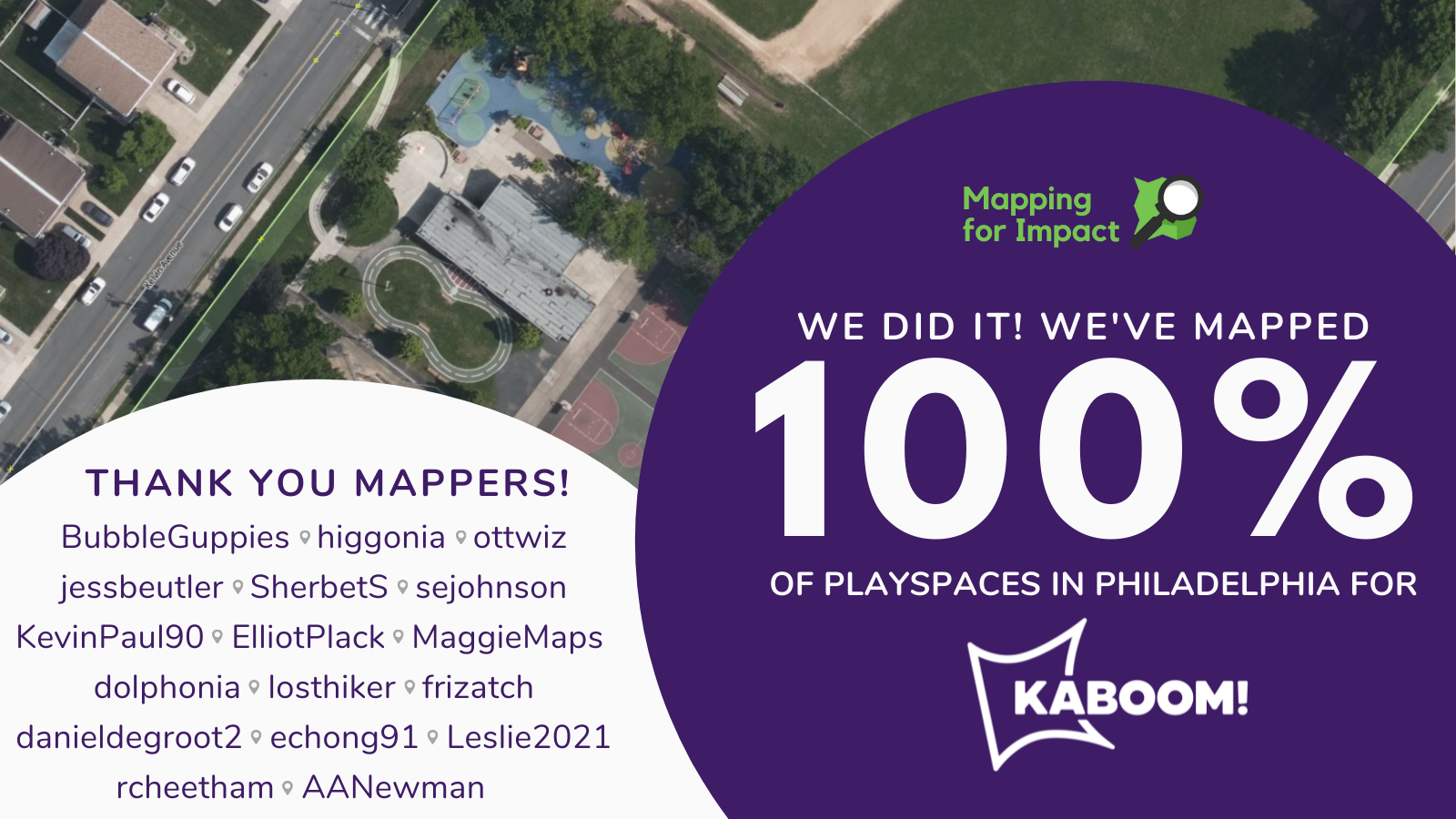 Based on the success of this pilot, we're currently mapping playspaces in Colorado. In the next year, we are looking forward to continuing our partnership with KABOOM! and partnering with new organizations. Interested in partnering with OSM US? Reach out to team@openstreetmap.us. Stay tuned for more information about Mapping for Impact and upcoming partnerships!
Growing the next generation of mappers
TeachOSM, a program of OpenStreetMap US to promote the use of OpenStreetMap in schools, grew its virtual programming for educators, students, and the broader OpenStreetMap community in 2021 with the first annual Back to School night and 20+ Map-Alongs. Map-Alongs provide an opportunity for anyone to learn and practice mapping in OpenStreetMap. Interested in attending or know someone who would be interested? Join the TeachOSM Meetup group to hear about all events.
In addition to hosting virtual learning opportunities, TeachOSM was treated to a brand new website, where you can find new and improved curriculum for educators. TeachOSM steering committee members Celeste Reynolds and Greg Hill launched OSM Teen Maptivists, an initiative to engage high school students. TeenMaptivists hosted several events connecting high school students with OSM professionals and mappers around the world as well as supporting student mapping skill development.
Community Driven Initiatives
Over the past year, we've seen some exciting and innovative community-driven activities. A few of our favorites to spotlight:
American Map Style: This year, community members initiated the OpenStreetMap "Americana" project, which aims to build an American map style for OpenStreetMap, complete with the features that North American users expect to see on their maps. We applaud the amazing progress and organization that this group of volunteers have been able to achieve!

US Bicycle Route System Update: Once again, dedicated volunteers have come together to make sure that the US Bicycle Route System is up-to-date in OpenStreetMap. Read about the project in our guest blog post from Steve All!

Local efforts to get outside and map: Despite the challenges of the pandemic, several groups made efforts to safely gather in-person. In NYC, mappers gathered to map bicycle infrastructure. Across the country in Bothell, Washington, OSM Seattle members mapped businesses and other features along the main street. We're inspired by these and other local mappy gatherings and can't wait to see more in 2022.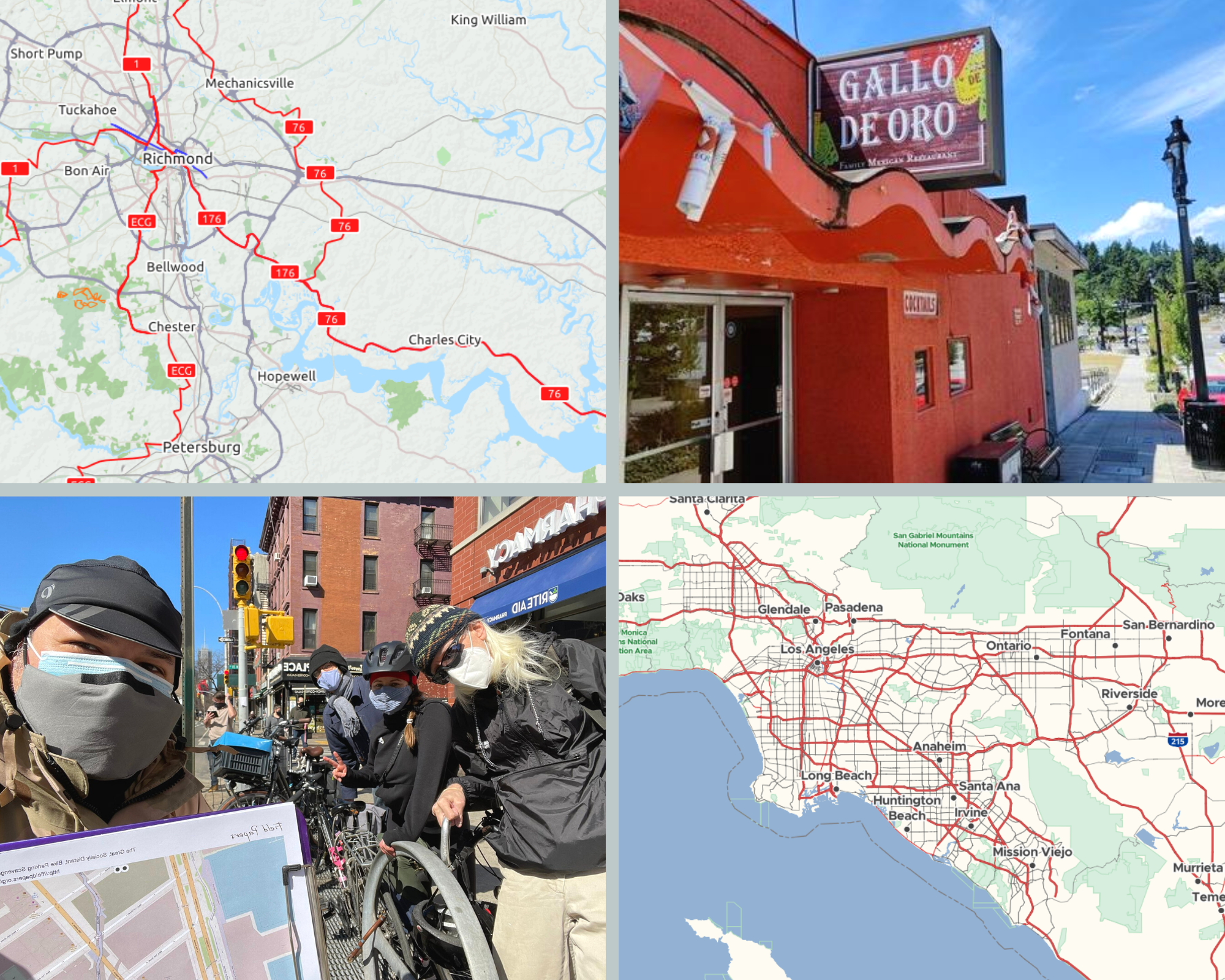 Images: USBRS Routes as displayed with the Cycle Map layer on OSM (upper left), picture of a local business in Bothell, Washington mapped during the OSM Seattle meetup (upper right), mappers in NYC during bike mapping courtesy of BetaNYC (lower left), a preview of the American Map Style (lower right).
Government Collaboration 
The OpenStreetMap US Government Committee formed to seek out mutually beneficial relationships between the public and open data communities. Committee members meet once per month and include representatives from DOT, USGS, FRA, FAA, NPS, Census, CDC, FEMA, FWS, ORNL, state and local governments, and industry professionals.
As part of this effort, committee members have been working on Public Domain Map, a software stack for feature collection that would result in data being contributed to both the OpenStreetMap under ODbL and the federal government as public domain. This project looks to broaden the horizon for future data collection within the federal government while allowing volunteers to contribute data that is more current and readily usable by government agencies. Learn more in this post.
Behind the Scenes
For all we've accomplished as a community, OpenStreetMap US has reached a few milestones as an organization this year as well. After nearly a year of hard work,  the OpenStreetMap US Board and Executive Director published our vision statement and strategic priorities to expand on our mission of ten years.
The organization grew in April when we welcomed Jess Beutler as our first Program Director. Jess is working on a part-time basis to strengthen and expand the impact and breadth of OSM US program offerings and we've already felt a positive impact from her participation. In November we welcomed our first intern, Maya Lovo Dominguez who is supporting TeachOSM, Nellie Blair continues to support the organization with communications and fundraising, and Maggie Cawley just began her third year as Executive Director. A big thank you to staff and volunteer board members - Martijn van Exel, Jubal Harpster, Diane Fritz, Minh Nguyễn, Daniela Waltersdorfer - for all of their support and hard work in 2021.
Thank You to Our Donors and Members!
Last year we were fortunate to receive generous financial support from both anonymous donors and well-known funders. We are deeply grateful for the sustaining support from our biggest funder, the craigslist Charitable Fund, who has invested in the mission of OpenStreetMap US for over five years. Thank you to our individual donors, many of whom give through their workplace which takes advantage of their corporate match program to further the impact of their gift. And of course, thank you to our members - OpenStreetMap US is here because of you!
Thank you for a fantastic year. We are looking forward to having more to celebrate with you in 2022! Happy Mapping!