This a guest blog post featuring Leanne Janowski, Communications Coordinator at the September 11th National Memorial Trail Alliance and OSM Contributor Steve All . Do you have a story to tell? OpenStreetMap US news or info to share? Message us at team@openstreetmap.us and we'll work with you to craft a blog post to share with the community!
---
About the 9/11 National Memorial Trail
The 9/11 National Memorial Trail is a living tribute to the many fallen heroes who perished during the tragic events of September 11, as well as the responders and volunteers who put their lives on the line for the salvation of our beloved country. The Trail is a 1,787-mile multi-use route that links the World Trade Center, the Pentagon and the Flight 93 Memorial.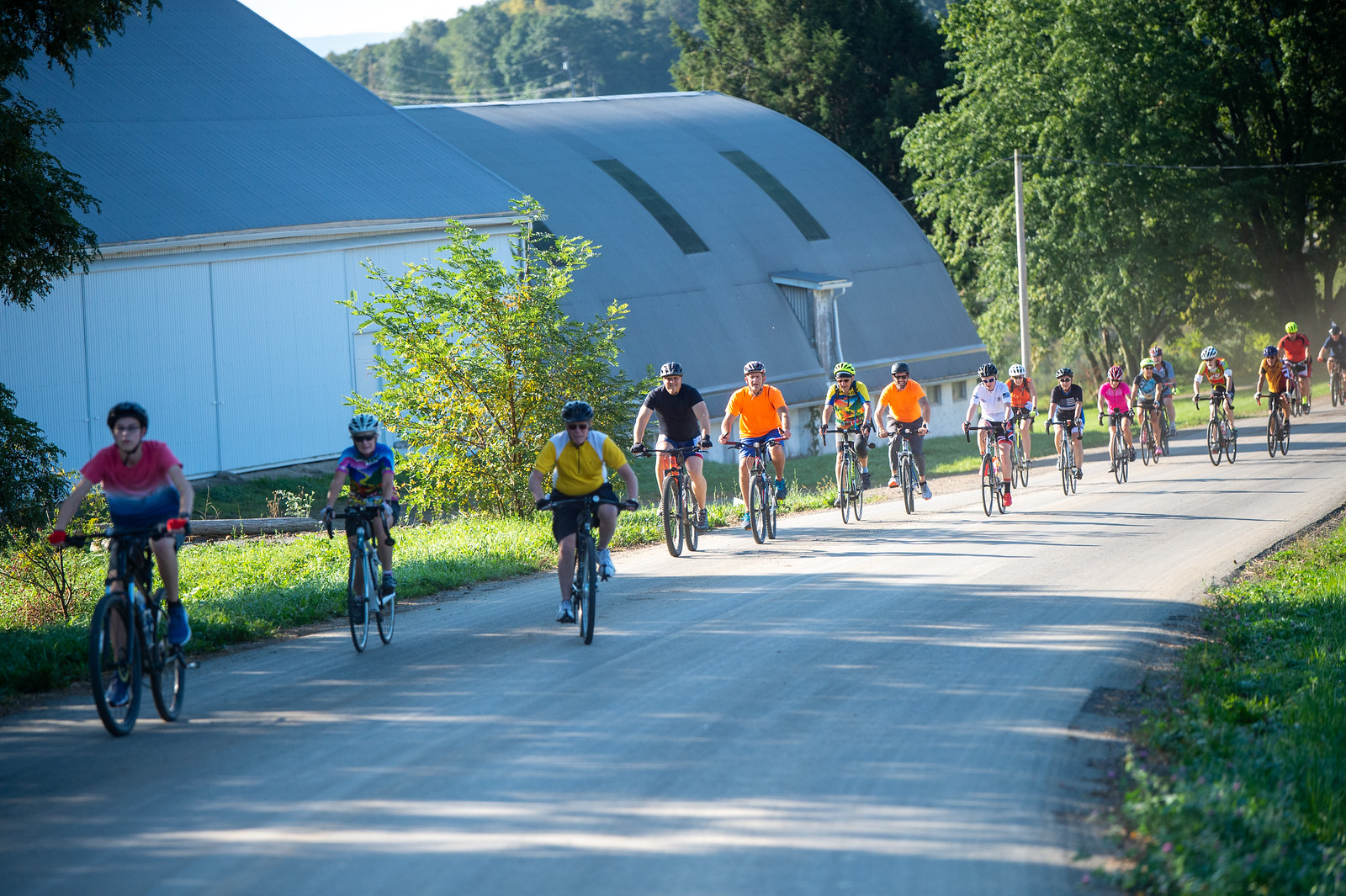 Image Credit: September 11th National Memorial Trail Alliance
The idea for the trail came from David Brickley, who was serving as the Director of the Virginia Department of Conservation and Recreation and was part of a Mid-Atlantic Governors' Conference on Greenways, Blueways, and Green Infrastructure just days after the tragic events in 2001. At the conclusion of the conference, Brickley proposed the idea of combining the nation's love for trails and greenways with the events of 9/11 that left a lasting mark on our country by creating a "continuously linked multi-purpose, non-motorized trail offering varied opportunities including walking, hiking, cycling and handicap accessibility as an active memorial honoring those who gave their lives upholding America's values of freedom and democracy." This idea received an overwhelming positive response.
The September 11th National Memorial Trail Alliance is a not-for-profit organization established in 2002 leading the development of a 1,787-mile bicycle and pedestrian trail connecting the three 9/11 memorial sites with communities in Delaware, Maryland, New Jersey, New York, Pennsylvania, Virginia and Washington, D.C. More than 50 percent of the 9/11 Trail is off-road, and the Alliance has been partnering with federal, state, county and municipal officials on 14 projects to connect more than 30 trails. The route includes New York City's National September 11th Memorial, the Pentagon Memorial in Arlington, Va., and the Flight 93 National Memorial in Shanksville, Pa.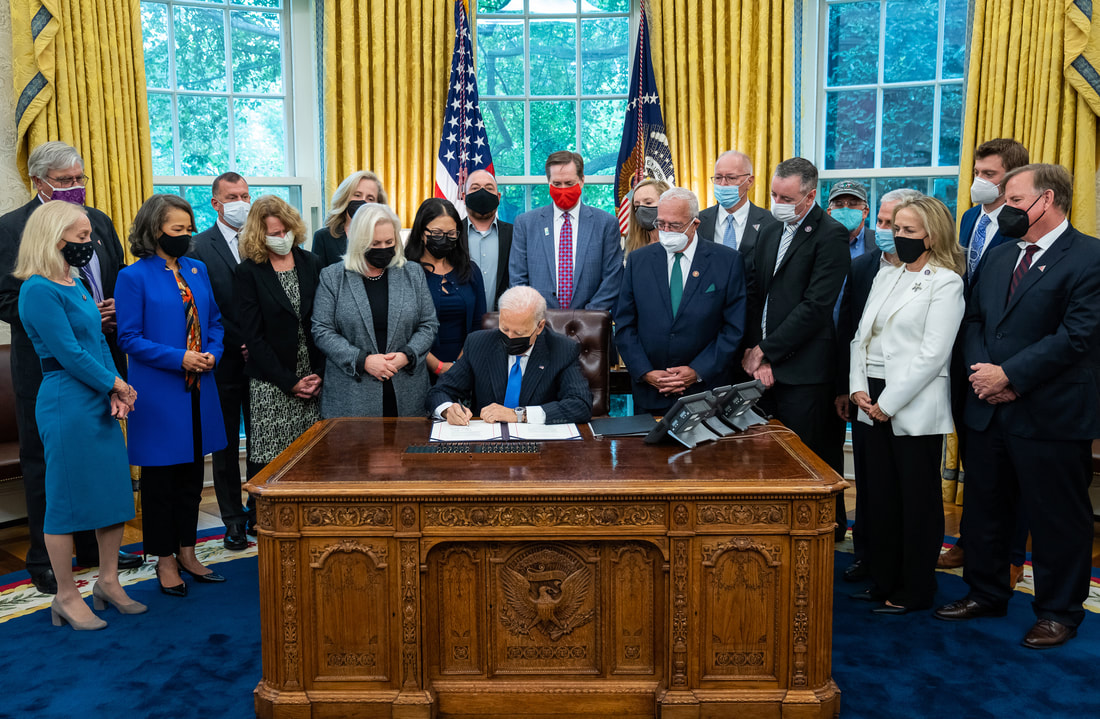 Image Credit: Carli K. Kientzle.
In 2021, President Biden signed legislation H.R. 2278, the federal designation of the September 11th National Memorial Trail. "The 9/11 National Memorial Trail is a … living Trail of Remembrance to honor the heroes of 9/11. I would like to thank President Biden and his administration for their strong support of this legislation, Congressman Gerry Connolly for his leadership in sponsoring H.R. 2278, and the entire Congress for their unanimous and bipartisan support," said David Brickley. "This trail was a 20-year effort envisioned immediately after the horrendous events of September 11, 2001, as a way to honor those heroes who gave their all that tragic day. The federal designation will ensure that as all enjoy the trail and greenway, they will also have an opportunity to reflect on the resilience and perseverance of America as a country and people."
The 9/11 National Memorial Trail in OpenStreetMap
With OpenStreetMap quickly becoming the go-to source and repository for trail and bicycle data around the world, it was only a matter of time before a newly federally designated multi-use trail would find its way into the map. The collaboration began, as it often does, with two dedicated mappers collaboratively editing. Starting with a GPX file of the trail, OSM mappers Steve All and Joel Amos began to enter the data one state at a time, starting with New Jersey and Pennsylvania and continuing along the trail and communicating over email as challenges arose. Thanks to their hard work, the trail is now 13 constituent pieces tied together by a "super-relation," a data structure convention in OSM (used by bike routes and other kinds of routes, like rail and public transit). 
Around this time, Steve was introduced to the September 11th National Memorial Trail Alliance and received an updated shapefile of the trail polyline which Steve has been using to address (36 to be exact) minor discrepancies in the OSM data with help from the Alliance.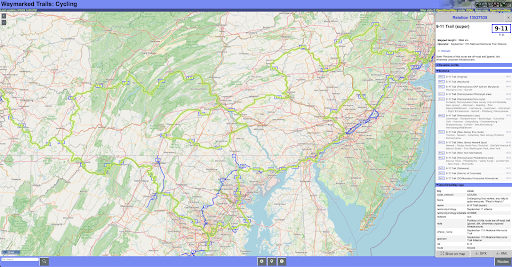 "9-11" on cycling.waymarkedtrails.org, fully zoomable and pannable (even on a smartphone)
In addition to having the Trail accurately mapped in OpenStreetMap, another goal is adding more detail along the trail that will support users including cycle-friendly campsites, drinking water locations, and other amenities. You can contribute to this at the OpenStreetMap US Tasking Manager here. 
This is an encouraging collaboration and we hope that these efforts will encourage people to experience and be united by the 9/11 Trail as a cyclist, a hiker, or a mapper.
---
Interested in meeting fellow cycle mappers? Join the conversation in the OpenStreetMap US Slack in the #bicycle channel.