OpenStreetMap US is excited to announce the adoption of Field Papers into the suite of tools we support for the larger OSM community. Over the course of 2023, Stamen and OpenStreetMap US will be working together on this transition and develop a plan for sustainable maintenance of this beloved community tool.
---
For the past 11 years, Field Papers has been a favorite tool for the OpenStreetMap community, and for many, it was the entry point for participatory mapping. Originally designed by Michal Migurski as Walking Papers, Field Papers as we know it today was launched by Stamen in 2012. As a printable atlas, Field Papers provides community mappers with a low-tech solution to field mapping. Mappers can annotate the map with notes and sketches and then later upload and add data to OpenStreetMap. Since its development, Field Papers has been used as a tool around the world from mapping for disaster resilience in low-tech environments to teaching kids geography through hands-on learning.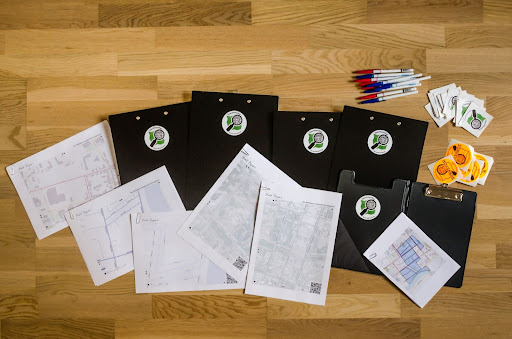 Photo CC-BY Alexander Kachkaev
Field Papers Through the Years
Since its creation, Field Papers (and Walking Papers before it) has filled an important gap in the mapping toolkits used by humanitarian and disaster relief organizations. Over the years, a who's-who of NGOs, charitable foundations, and government agencies has contributed to the support and improvement of Field Papers.
The predecessor to Field Papers was originally created by Michal Migurski in 2009 as "Walking Papers", and debuted at the humanitarian open data mapping summit at Camp Roberts, California, convened by John Crowley. This pivotal event catalyzed many discussions about the role of open data and OpenStreetMap in particular in the humanitarian mapping community. Other notables in attendance at this key event were Mikel Maron (co-founder of the Humanitarian OpenStreetMap Team), and Eric Gunderson of DevelopmentSeed (later CEO of Mapbox), who documented these first Walking Papers mapping parties in an album on Flickr.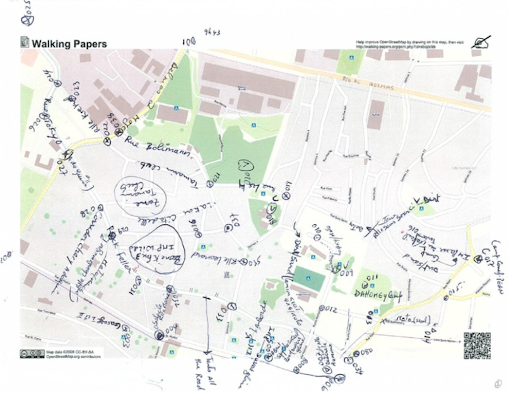 Photo of a Walking Papers map from Haiti in 2010
Walking Papers was immediately put to use during the aftermath of the 2010 Haiti earthquake. The real-world experience of the Humanitarian OpenStreetMap Team and other relief agencies working in Haiti motivated the addition of the first multi-page "atlas" options in Walking Papers.
In 2012, in collaboration with Caerus Associates, Stamen publicly launched Field Papers, building on the foundation of Walking Papers. Version 2 of Field Papers followed quickly in 2013, with support from USAID enabling Stamen to vastly speed up atlas creation times and add a host of additional features.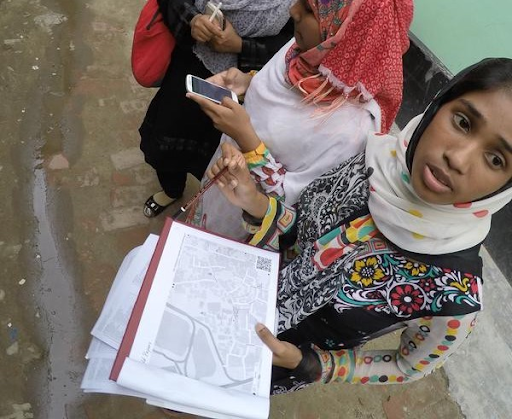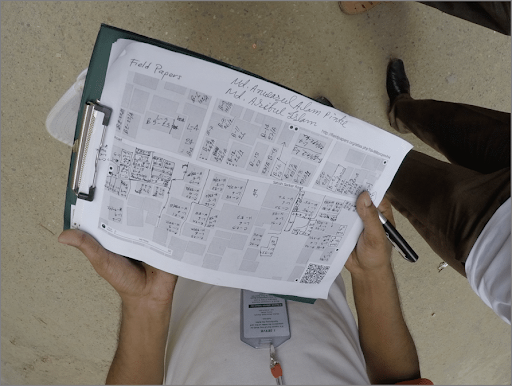 Missing Maps contributors using Field Papers in Dhaka, Bangladesh
Field Papers quickly became an indispensable part of the suite of tools used by the Missing Maps Project, founded in 2014 by HOT, Médecins Sans Frontières, and the American and British Red Cross. During extended power outages in the field or when internet connectivity broke down, printed Field Papers atlases meant that mapping could still continue.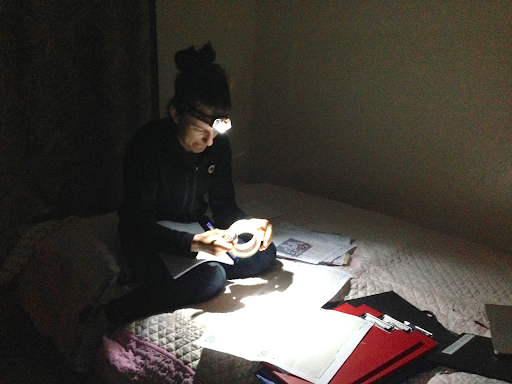 Taping together Field Papers atlases by headlamp during a power outage in Cyahinda, Rwanda. Photo CC American Red Cross
In 2015, Stamen rebuilt the Field Papers codebase from the ground up with funding support from the Hewlett Foundation. This massive rewrite made Field Papers even more stable and supported more internationalization, including multiple languages via Transifex and support for paper sizes used outside of North America. Stamen live-blogged the progress of the 2015 rebuild of Field Papers on Tumblr (because, you know, it was 2015).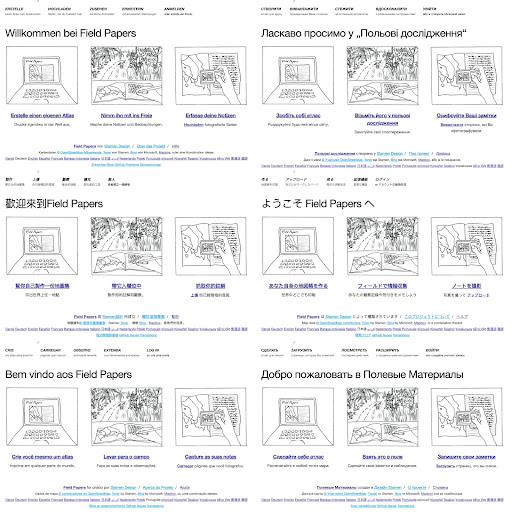 Just a few of the languages now supported by Field Papers thanks to volunteer translators on Transifex
By mid-2015, there were nearly half a million atlas pages in the Field Papers database, and Stamen Design Technologist Sean Connelley made this map showing the outline of each of those atlas pages: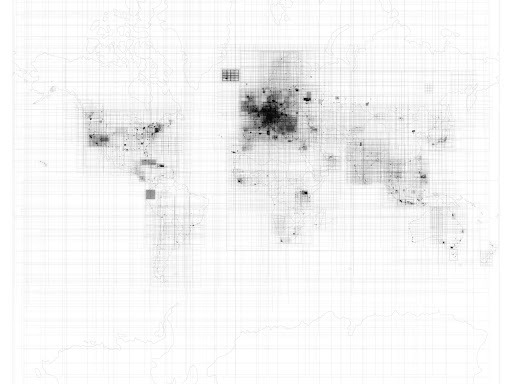 All atlas pages in Field Papers as of 2015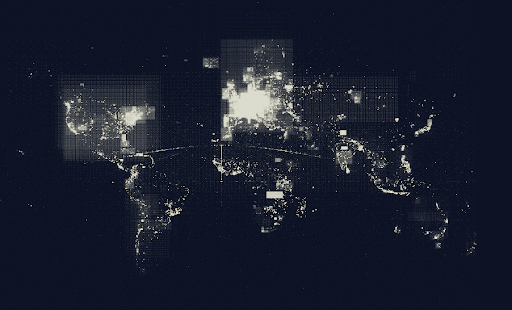 Field Papers atlases in 2021, by Eric Brelsford
In 2016, Stamen worked with Cadasta and Outreachy's internship program (an initiative of the Software Freedom Conservancy to support diversity in open source) to redesign the atlas creation steps, as presented by Lindsey Jacks at SOTMUS 2016.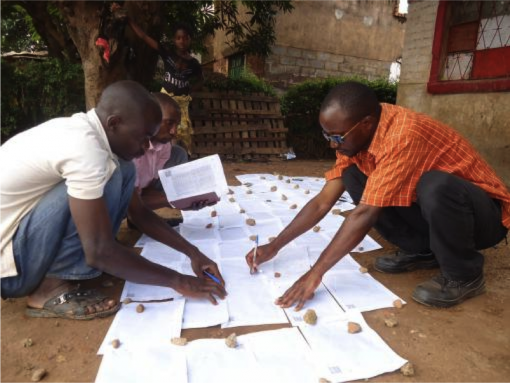 Mappers spreading out a Field Papers atlas in Lubumbashi with the Humanitarian OpenStreetMap Team and Médecins Sans Frontières. According to one mapper this was "the first mapping of Lubumbashi since the Belgians left".
Also in 2016, Field Papers was included in the "Portable OpenStreetMap (POSM)" project that Stamen developed in collaboration with SpatialDev (now part of Locana), supported by the American Red Cross. Even though Field Papers enables totally offline data collection via the low-tech medium of paper printouts, you still need internet connectivity to scan in your Field Papers printouts and trace your notes into OSM. By using POSM, mappers with the Missing Maps project had an offline, off-the-grid copy of OpenStreetMap where they could digitize their Field Papers annotations in the field, and sync the results from the POSM database back up to OSM at a later date.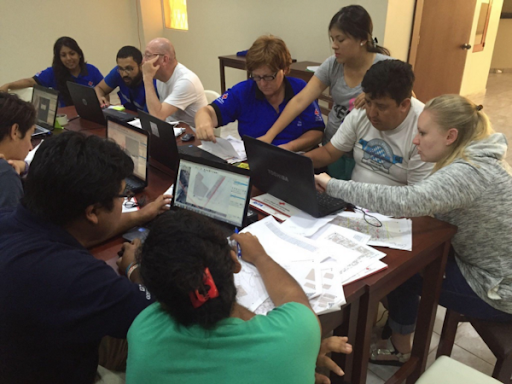 Volunteers with the Ecuadorian Red Cross digitizing Field Papers printouts into POSM
Field Papers (and Walking Papers) has shown up in some unexpected places, such as a 2011 exhibition at the Art Institute of Chicago, or in a high school participatory mapping project led by artist Ingrid Burrington, and been used in some surprising ways, for example as a data collection tool for an army of bike messengers tasked with tracing the paths of tech company shuttle buses in San Francisco for Stamen's "City From The Valley" project.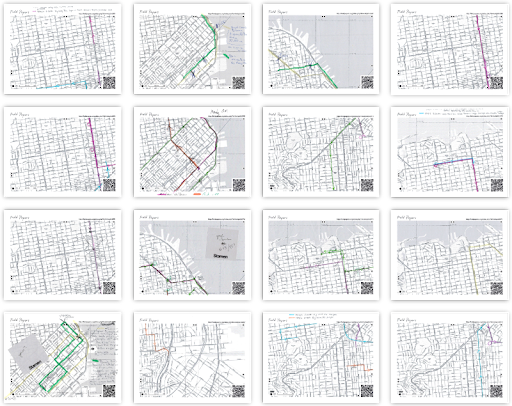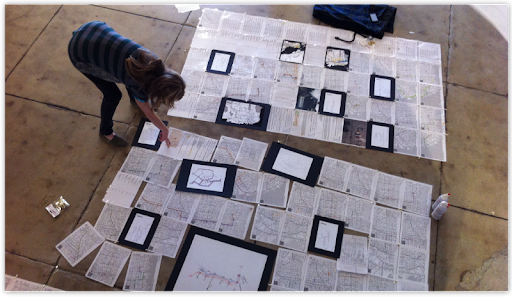 Assembling Field Papers maps of tech shuttle bus routes in San Francisco
The Transition to a Community-Hosted Tool
This year, OpenStreetMap US stepped forward to become a steward of Field Papers for the community going forward. The transition makes sense; not only is the tool used extensively by the mapping community globally and in the US, it is also used a great deal by educators through OpenStreetMap US's TeachOSM program and other education initiatives.
While it will now be under the umbrella of OpenStreetMap US, Field Papers will be maintained as a global tool available for mappers around the world. In the next year, OpenStreetMap US will be working to develop a plan for maintenance and development that pulls in the knowledge and skills of the volunteer community, as well as expanding the financial resources available to the project.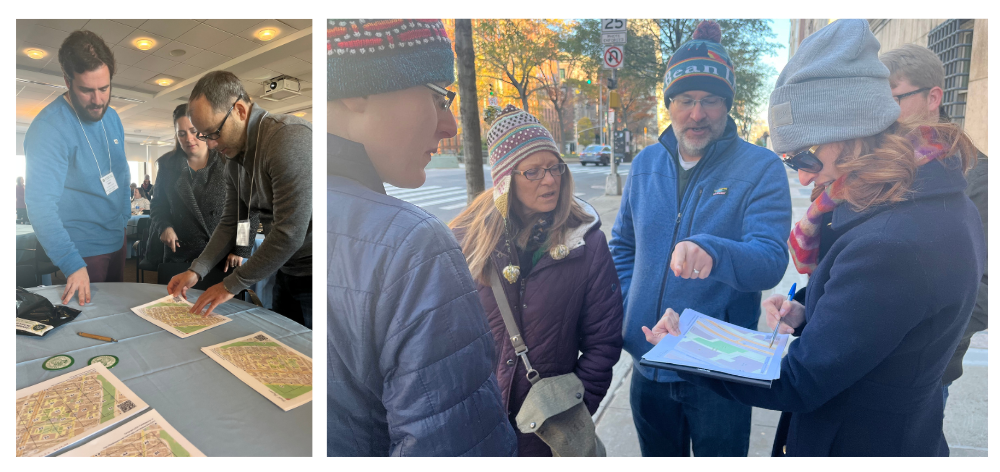 Teacher Fellows at the Geography 2050 conference in New York City learning to map with Field Papers during a TeachOSM workshop. Image credit: Jess Beutler
Where does Field Papers fit in the current OSM tool ecosystem?
Field Papers was groundbreaking when it first launched and has served as the de facto paper-based OSM mapping tool for years, but these days it is just one of the many tools to choose from. Earlier this year, HeiGIT announced their new SketchMap tool that builds on the success of Field Papers and the growing need for collaborative, low-tech mapping tools by adding and improving features, particularly for humanitarian and participatory mapping contexts.
OpenStreetMap US is collaborating with HeiGIT to understand how the paper-based mapping tools in our ecosystem can complementarily solve mapping challenges for different audiences and improve access to mapping in OpenStreetMap. In the next year, there will be opportunities for the community to provide feedback such as at the State of the Map US conference.
How can you support the future of Field Papers
While OpenStreetMap US is stepping in to support the sustainability of Field Papers and ensure that it continues to be a tool used by mappers around the world, there are many ways that you can help us achieve this goal: