Background
Two years ago, we shared the launch of Public Domain Map, a new project and collaboration with federal agencies, including the U.S. Department of Transportation and the U.S. Geological Survey. The goal of the initiative is to develop tooling that would enable crowdsourcing volunteers to contribute their time and efforts towards improving data in both OpenStreetMap and federal datasets simultaneously.
As we explained in a 2021 blog post, Public Domain Map would fill a significant need in the open geospatial ecosystem. With an ever increasing need for geospatial data to understand and respond to civic challenges alongside a growing resource demand for data maintenance, effective workflows for government agencies to harness crowdsourced data are critical now more than ever. As the world's largest crowdsourced geospatial database, OpenStreetMap is poised to serve this need.
Currently, the relationship between federal datasets and OpenStreetMap is "oneway=yes". Federal datasets, licensed in the public domain, can be be added to OpenStreetMap as needed and through community imports. However, this does not work in the other direction. Due to OpenStreetMap's licensing under ODbL which requires all data use to credit OpenStreetMap contributors, OpenStreetMap data cannot be conflated with federal datasets and then republished in the public domain. Instead, any use of OpenStreetMap data by government agencies requires attribution. The Federal Government, being required to keep federally funded data in the public domain, cannot risk using ODbL data.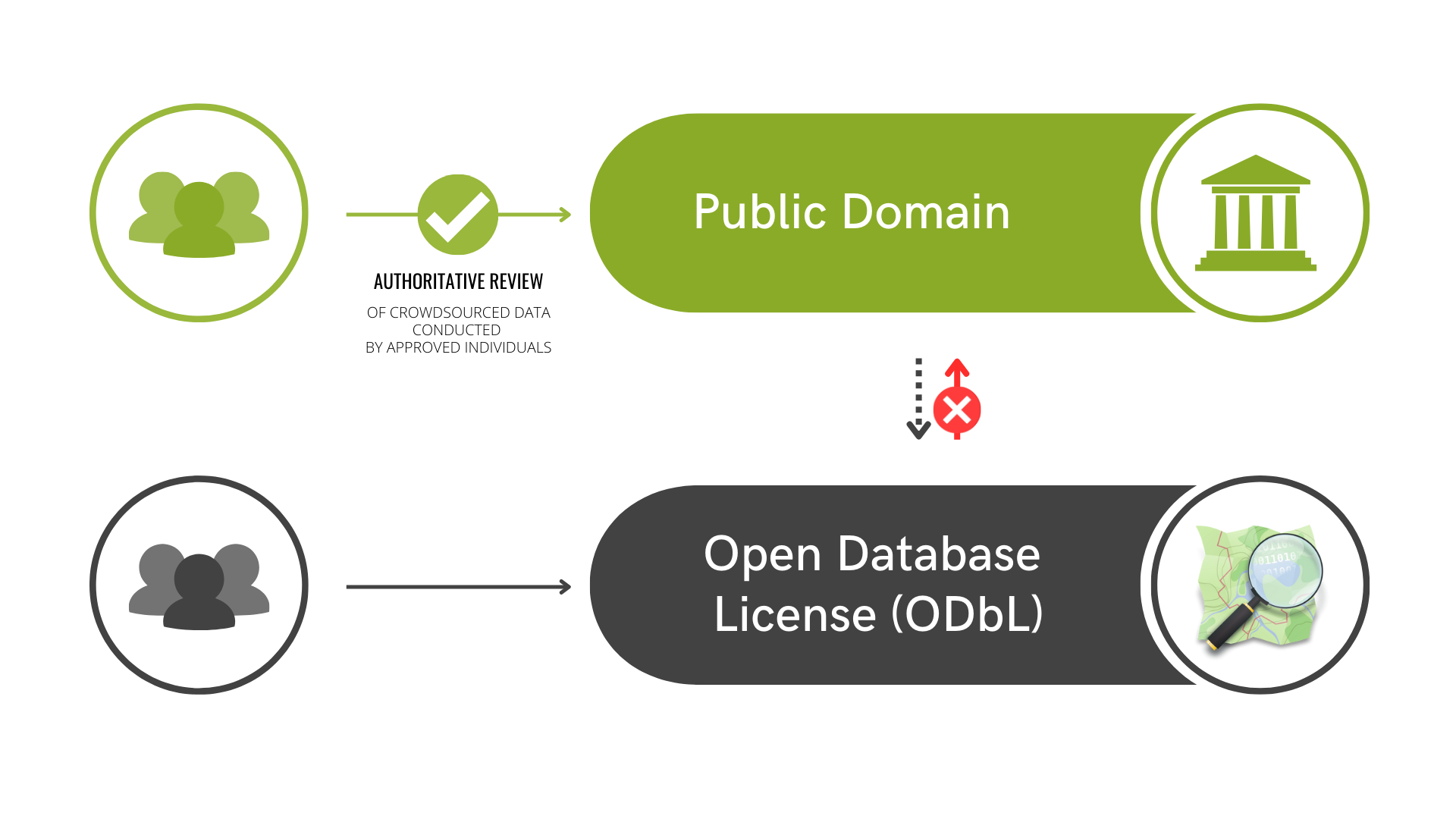 As a result, parallel crowdsourcing efforts have developed such as the National Map Corps, as federal agencies have recognized the value of crowdsourcing and OpenStreetMap but did not have a method of bringing the data together due to licensing.
Public Domain Map overcomes this challenge by creatively modifying existing crowdsourcing tools to allow volunteers to contribute first to the public domain before data is added to OpenStreetMap. All contributions start in the public domain, which allows the original government public domain datasets to accept edits from users and allows the edits to be applied to OpenStreetMap.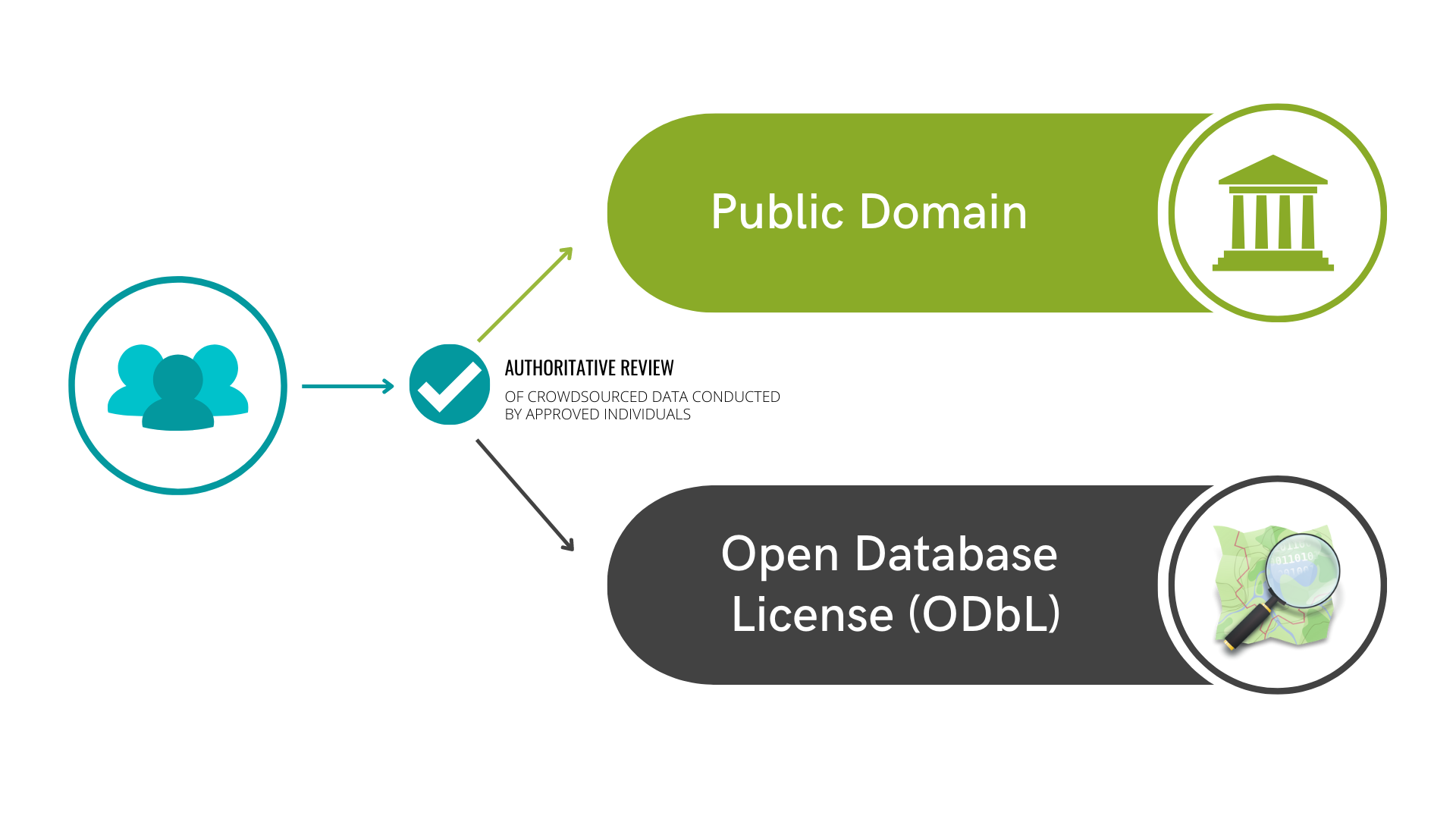 After authoritative review (or validation from the requesting agency), the geospatial data is added to the US public domain by the requesting agency. Using existing OSM tools, such as MapRoulette or RapiD, the OSM community can import the data into the OSM database. This method parallels existing contribution workflows to OSM, allowing for immediate useability by the millions of users already contributing. 
What we've done so far
Project Scoping & Needs Assessment: March 2020 - May 2021
In 2020, OpenStreetMap US formed a Government Committee to seek out mutually beneficial relationships between the public and open data communities. Bringing together individuals from federal agencies, state governments, corporate representatives and map contributors led to a clear call to action - we needed to find a way to improve the interoperability between Federal datasets and OpenStreetMap. Within this collaborative environment, we began working with the U.S. Department of Transportation, the USGS, and other stakeholders to identify a use case - landing on improving railroad datasets for the Federal Railroad Administration. We selected this need as a use case for a Public Domain Map pilot, starting with data collection in Colorado. This iterative approach allowed us to focus on a specific user-driven issue that we can begin to tackle alongside the railroad mapping community and the Federal Railroad Administration.
Initial Prototype Development: March 2021 - June 2022
In close consultation with government stakeholders and the OSM community, the foundational infrastructure was developed by Jim McAndrew and in consultation with other technical experts in the OSM community to meet the needs identified. This phase resulted in the first product prototype for user testing: a new Public Domain Map instance of the OSM Tasking Manager (an open source tool designed to manage and coordinate organized editing efforts in OpenStreetMap). This would allow volunteers to use a familiar and well-tested tool to coordinate mapping efforts, using data sources only in the public domain. This version of the Tasking Manager was isolated from the OpenStreetMap database, using only public domain imagery and datasets for volunteers to map against.
While this prototype showed a proof of concept that the Tasking Manager could be retooled to only use public domain sources, there were two main challenges to this approach and prototype:
This Public Domain Map Tasking Manager was built on an old instance, and a complete redesign would be needed to bring the tool up to current development.

Introducing a new Tasking Manager not increased the amount of maintenance that would be required, but introduced the possibility of further splitting volunteers into separate streams of contributions as several OSM Tasking Managers are already in operation. This was the opposite of one of our goals to consolidate volunteer efforts.
Mapping Workflow Redesign & Tasking Manager Integration: July - December 2022
With Quincy Morgan onboard as our new Technical Lead in 2022, OpenStreetMap US and our federal partners dove further into the development of the Public Domain Map tool, reassessing the overall design and tooling. Recognizing the challenges that arose through the prototype, the team determined a new plan: integrate the Public Domain Map tooling & workflow into the existing OpenStreetMap US Tasking Manager. This would streamline maintenance and better consolidate volunteer efforts.
The OpenStreetMap US Tasking Manager was subsequently updated and redesigned to host both OpenStreetMap and Public Domain Map projects side-by-side, meeting the goal of consolidating volunteer efforts.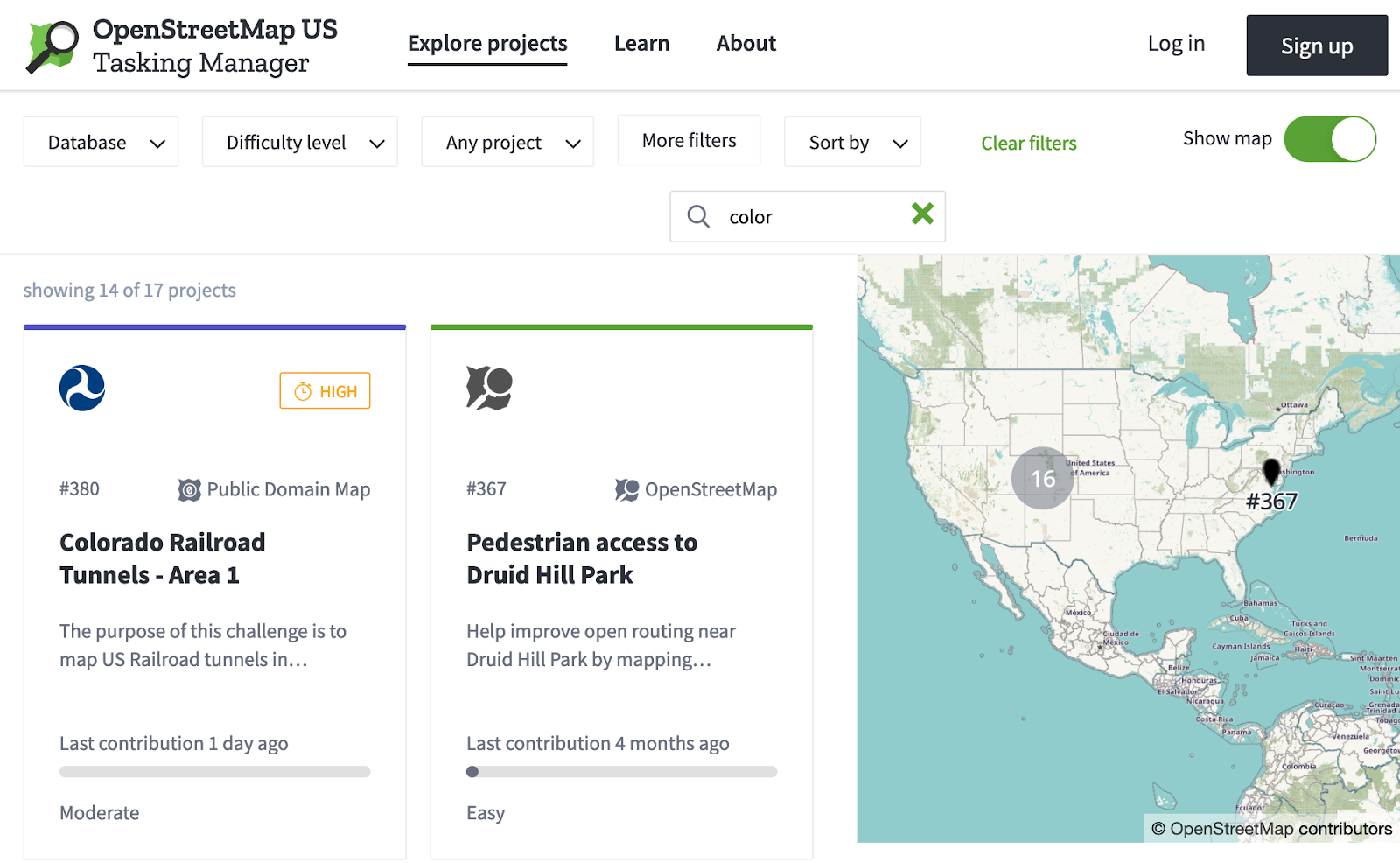 The FRA Pilot: January - May 2023 (ongoing)
With the integration of Public Domain Map into the Tasking Manager, the Federal Railroad Administration (FRA) pilot could now be launched in early 2023. To test the workflow, Public Domain Map launched its first pilot phase with volunteers mapping railroad tunnels in Colorado for the Federal Railroad Administration. This pilot was designed to assess and collect feedback on the steps 2 & 3 in the simplified Public Domain Map Workflow (see workflow image below).

In this pilot, volunteers have been asked to test the mapping workflow in the OpenStreetMap US Tasking Manager and the authoritative review (also referred to as "validation") process.  The goal of this pilot is to identify 1) challenges in user experience for mapping and validation, 2) gaps in licensing, 3) documentation and training needs. This pilot does not address  how data is extracted from Public Domain Map servers for use by project managers, nor will this pilot address data conflation into OpenStreetMap.  Instead, a phased approach will allow for core function improvements to be made before continuing to subsequent steps such as conflation.
Experienced volunteers were recruited from the National Map Corps & OpenStreetMap communities as a way of understanding how mapping volunteers from two different groups would experience the workflow. These mapping volunteers received guidance and training materials on how to map in OpenStreetMap before contributing to a Public Domain Map project on the OpenStreetMap Tasking Manager. So far, five volunteers from the National Map Corps have completed the mapping pilot, providing feedback on training materials for setting up of OpenStreetMap user accounts and using the Tasking Manager  (to inform future documentation and instructions) as well as challenges and concerns regarding the tools and workflow. At the moment, recruited OpenStreetMap contributors are currently completing the mapping workflow and will provide similar feedback.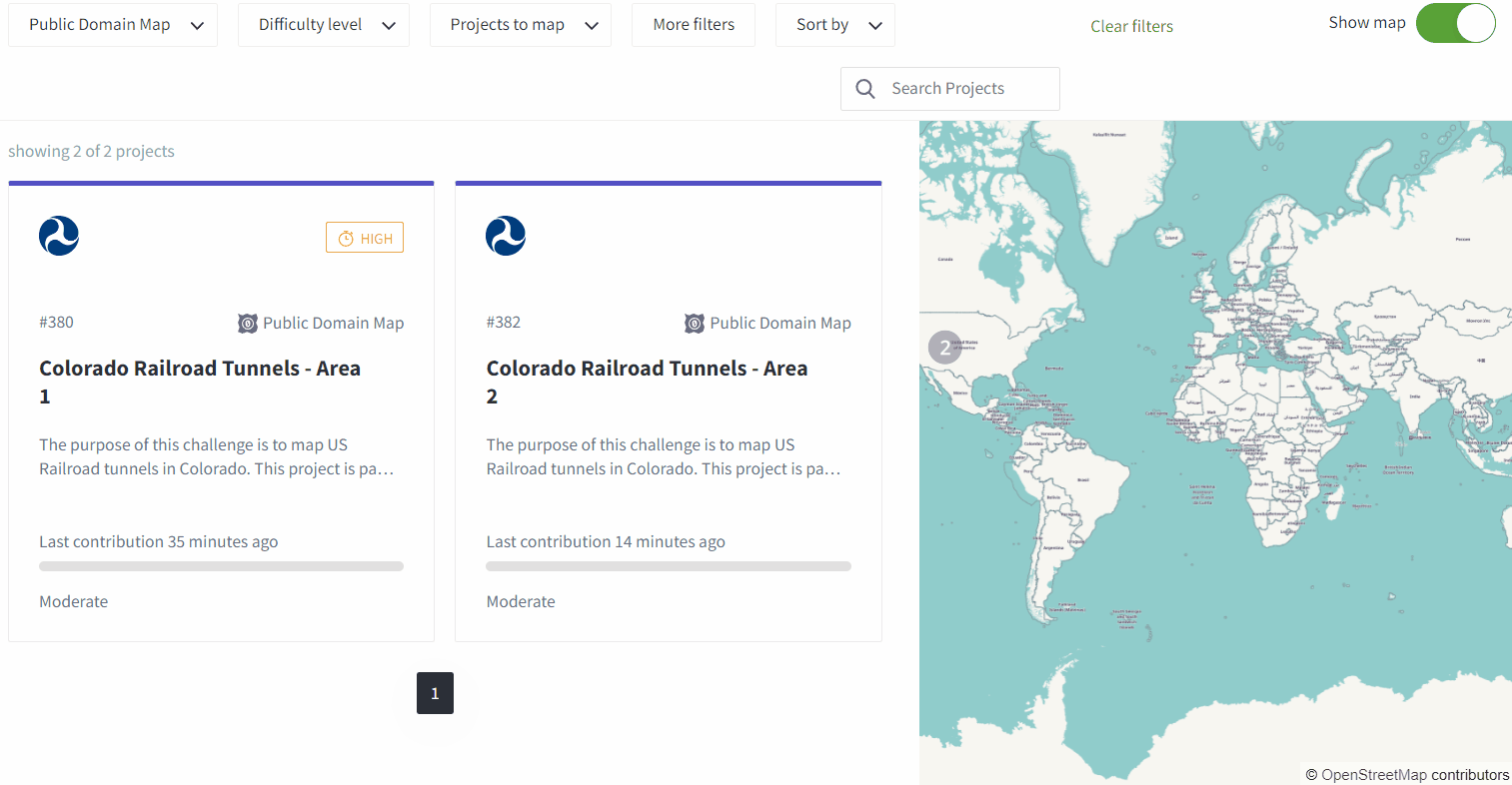 Following this mapping phase, validation will begin soon (target April-May 2023) with representatives selected by the Federal Railroad Administration for authoritative review. These representatives will receive training in how to use the Public Domain Map tools and how to review volunteer-contributed data for quality and accuracy. While the authoritative review process will be conducted through the validation process in the Tasking Manager, additional specifications have been added to the review to ensure that data contributions meet FRA data standards.
What's Next?
Once validation is complete, we will post an overview of the results as well as share these details at the State of the Map US conference in June 2023, including plans for any further development based on feedback. Integration of feedback will conclude this first pilot phase - but there is still work to be done.
First, we will continue testing the mapping workflow with new use cases and requesting agencies (there is already a growing queue!), expanding this testing into Step 4 of the workflow - ensuring that agencies are able successfully extract and use the contributed data.
Second, we will begin mapping out and exploring the conflation component of the Public Domain Map workflow (Step 5). This will involve working with MapRoulette and RapiD collaborators to determine the technical possibilities and best workflow for mappers to get Public Domain Map data into OpenStreetMap.
In anticipation of these next steps, OpenStreetMap US is re-opening the doors for the community to get involved in the development of Public Domain Map. If interested in joining the Public Domain Map Working Group, please fill out the form below. 
---
And thank you to everyone that has been championing this effort, attending regular meetings, providing advice, and spending late nights fixing bugs: Derald Dudley, Greg Matthews, Erin Korris, James McAndrew, Maya Shapiro, Raquel Wright, among many others.