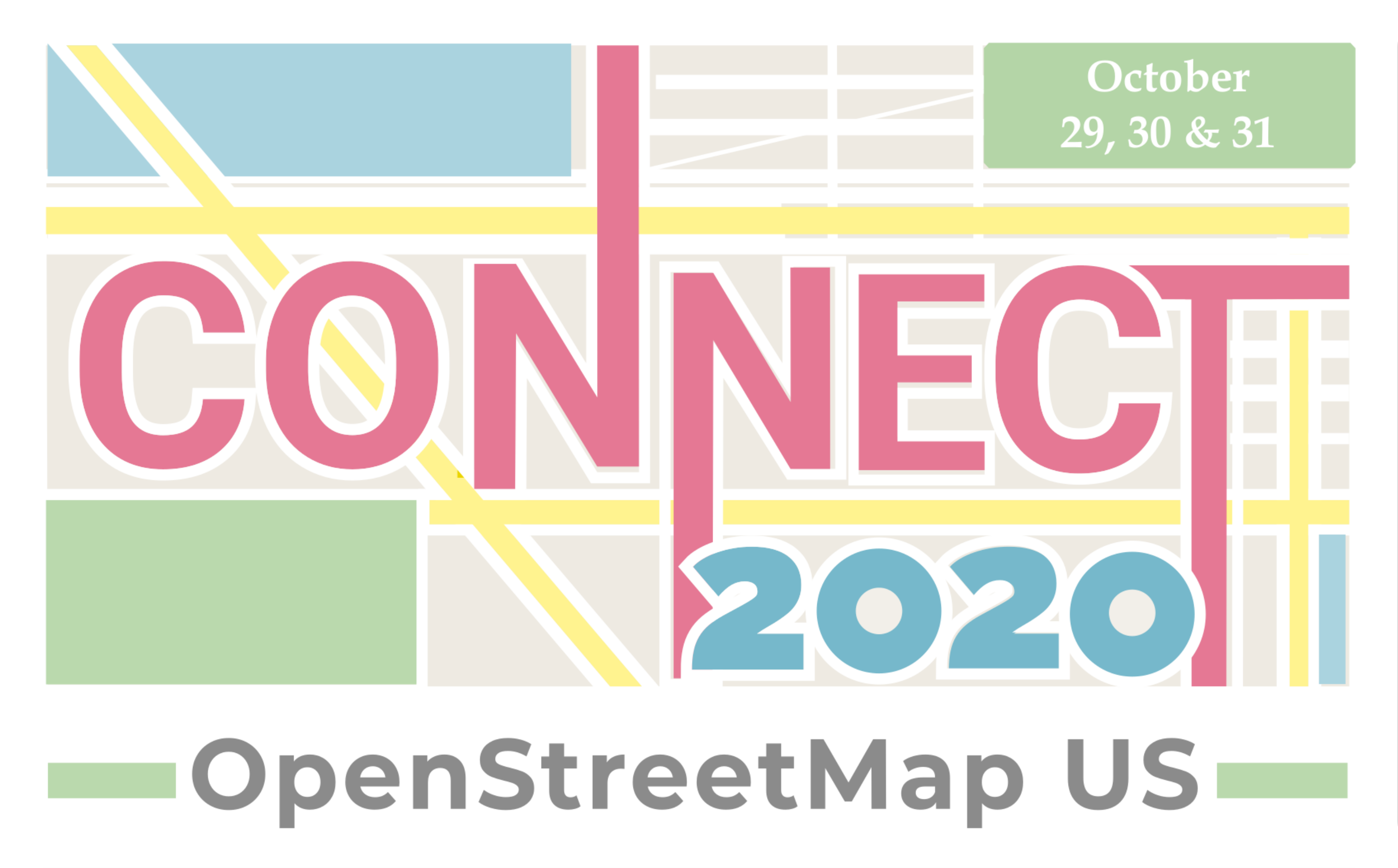 October 29–31, 2020
This virtual conference brought together mappers from all over the world for a Mappy Hour, four hours of presentations, and a day of workshops. This was the first iteration of our virtual conference series now known as Mapping USA.
Thank you for helping to make our first virtual conference a success!
This free, virtual event was a celebration of our community and all things OpenStreetMap. Connect 2020 included a Mappy Hour Thursday evening, a half day of talks on Friday, and a day of workshops, birds of a feather sessions and mapathons on Saturday. We hope to make this an annual gathering that enables people from across the country to learn about OpenStreetMap and network with fellow mappers through a combination of curated and community-led dialog.
Program
We had three fun days packed with talks, workshops, hacking, mapping parties and networking all around OpenStreetMap.
Thursday, October 29, 2020
There was a social Mappy Hour from 8:00pm to 9:00pm ET.
Friday, October 30, 2020
All talks were recorded and have been made available on this YouTube Playlist.
| TIME (all ET) | TALK TITLE & SPEAKER |
| --- | --- |
| 2:00pm | Welcome to Connect 2020 (Maggie Cawley, Minh Nguyễn, Jubal Harpster, Alyssa Wright, Dani Waltersdorfer, Martijn van Exel) |
| 2:15pm | OSMUS Community Chronicles: Exploring the growth and patterns of mapping in OSM in North America (Jennings Anderson); TeachOSM (Steven Johnson); Ethical Mapping (Erica Hagen); OpenHistoricalMap (Jeff Myer); Winds of Change in the OSM Foundation, Part Deux (Allan Mustard) |
| 2:50pm | Break |
| 3:00pm | Reinventing the Wheel (Emily Eros & Russ Biggs); Transit Pedestrian Connectivity (Evan Siroky); A/B Street: a traffic simulation game built on OSM (Dustin Carlino); Arrive in 800 kilometers: Ground-truth-based road quality findings in 30 US metros (Clare Corthell); Digitize & Manage Your Roads: How RoadBotics Creates Road Data (Lisa McCune-Noll) |
| 3:25pm | Break |
| 3:30pm | Multilingual name tags in the United States (Brandon Liu); Stopping the spread of COVID-19: Simple, printable maps of hand-washing stations (Nicole Martinelli); Coordination between YouthMappers (Joel Odango); Crowd2Map: Lessons learnt from 5 years mapping rural Tanzania to fight FGM (Janet Chapman) |
| 3:55pm | Break |
| 4pm | Panel: Public/Private Collaborations around OSM - Past and Future (Facilitator: Josh Sisskind. Participants: Erika Nunez, Madison Musgrave, Greg Matthews, Erin Korris) |
| 4:25pm | Break |
| 4:30pm | MapRoulette (Martijn van Exel); What's New with the iD Editor (Quincy Morgan); What's happening at MapWithAI? (Danil Kirsanov); COVID & Catastrophe Mapping with Street-Level Imagery (Janine Yoong); Advancements in JOSM tools, validation checks & auto-fixes using Java Topology Suite (JTS) (Milla Zagorski); A Satellite in Your Pocket: Using Ground Based Action Cameras to Create Aerial Perspectives for OSM Editing (Sean Gorman) |
| 5:00pm | Break |
| 5:15pm | OSM & Wikidata using Sophox (Minh Nguyễn); Using Street-Level Imagery to Save Cyclists (David Greenwood); Digital Elevation Models for Coastal Hazard Preparedness (Mark Rankin); Redistricting and Gerrymandering with Open Data (Nick Doiron); Spot the Box (Russ Biggs); Open Street Art (Bond Harper) |
| 5:45pm | Closing announcements, OSM US Connect 2020 Organizing Team |
| 6pm to 7pm | Social Hour, Job Room & Costume Contest! Stick around after the talks and let's hang out! Help us celebrate Halloween with your favorite costume, hat or mask - just keep in mind others will only see you from your shoulders up! For those who forego the costumes, we will also have rooms for job seekers, new mappers, and socializing. Hope to meet you there! |
Saturday, October 31, 2020
| TIME (all ET) | ROOM 1 | ROOM 2 | ROOM 3 | ROOM 4 | ROOM 5 |
| --- | --- | --- | --- | --- | --- |
| 10:30am to 12pm | Birds of a Feather: OSM's role in promoting social equity (Ariel Kadouri) | OHM Birds of a Feather (Jeff Myer) | Mapping Mobility in NYC: Mapathon of Sidewalks and Crossings in Flushing, Queens, NY (Daniel Solow) | Birds of a Feather: JOSM Tips (Alan Bragg) | OSM US Charter Project Info Session 11am-12pm |
| 12pm to 1pm | Birds of a Feather: OSM US: Looking Ahead w/ OSM US Leadership | (the only session during this time slot) |   |   |   |
| 1pm to 2:30pm | Birds of a Feather: OSM in Government (Derald Dudley & Greg Matthews) | Mapping to help protect girls from Female Genital Mutilation in Tanzania (Janet Chapman) | RapiD Workshop (Danil Kirsanov, Benjamin Clark, David Yang, Yunzhi Lin, Jeff Underwood & Deane Kensok) | Birds of a Feather: Microcosms to support communities (Brian DeRocher) |   |
| 2:30pm to 4pm | Birds of a Feather: How do we know what we know? (Jennings Anderson) | Office hours: Get help editing the OSM Wiki and Wikidata (Minh Nguyễn) | Mapping with YouthMappers (Patricia Solis) | Birds of a Feather with TeachOSM (Steven Johnson) |   |
More info on the wiki page.
---
Thank You To Our Sponsors!
Presenting Sponsors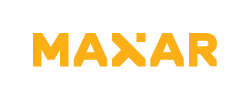 Gold Sponsors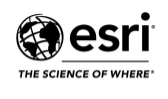 Silver Sponsors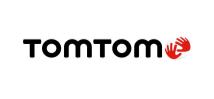 Bronze
U.S. Department of State's MapGive Initiative
Gaia GPS
Kaart
Acknowledgements
OpenStreetMap US would like to thank the following for their support and participation in making this virtual event a reality:
All of the volunteers of the Connect 2020 Organizing Committee for planning this fantastic event - you are amazing!
Critigen for donating the logo design.
University of Arizona for the use of their Zoom platform and continued support.
The OpenStreetMap Foundation for the use of their Big Blue Button platform.
All of our supporting attendees that made a donation when registering for the event - you rock!
We are grateful for your support!
Still Interested in Donating?
Your financial support helps keep events like Connect 2020 free and accessible. Is your company interested in supporting OpenStreetMap US? Email us at connect@openstreetmap.us or donate here.
News
Connect 2020 - Mark Your Calendars! From October 29 to 31, OSM US will host a free, virtual event to celebrate our community and all things OpenStreetMap. Connect 2020 will include an...