Public Domain Map enables organizations to crowdsource authoritative map data in cases where OpenStreetMap isn't an option. Mappers can address public data gaps while producing high-quality data that is format- and license-compatible with OSM. For more information, check out the project page here. 
Background
To improve interoperability between federal datasets & OpenStreetMap, OpenStreetMap US has been working alongside USDOT, USGS, and other federal partners in developing Public Domain Map to streamline volunteer contributions to government datasets and OpenStreetMap. The objectives of Public Domain Map are to:
Fill gaps in US data - for both OpenStreetMap & US Government

Improve interoperability between data and user groups

Respect and work with both the ODbL & Public Domain Licenses

Provide an avenue for Authoritative Review through OpenStreetMap tools
Since 2020, OpenStreetMap US and government partners have made significant progress on the first phase of the project. During this phase, OpenStreetMap US and project partners have completed:
Project Scoping & Stakeholder Needs Assessment

Initial Prototype Development 

Mapping Workflow Redesign & Tasking Manager Integration
The work on those milestones was documented in an April 2023 blog post that you can read here. The final milestone for this phase was completed this month with a user testing pilot for the Federal Railroad Administration, identifying key takeaways and recommendations for improvements before moving forward into the next phase of the project.
Pilot Summary
Phase I: Federal Railroad Administration (FRA) Pilot & User Testing was conducted between January and September 2023, assessing and collecting feedback on steps 2 & 3 in the simplified Public Domain Map Workflow, mapping and validation.
In this pilot, users tested the technical workflow of creating public domain data in the OpenStreetMap US Tasking Manager and the authoritative review (also referred to as the "validation" process). The goals of this pilot were to identify any challenges in the user experience for mapping and validation as well as documentation and training needs.
The pilot consisted of three (3) separate activities (Onboarding, Mapping, & Validation) each of which concluded with a short feedback form. These forms captured any challenges and feedback from the tasks completed. Experienced and interested volunteers were recruited from The National Map Corps & OpenStreetMap communities to understand how mapping volunteers from two different groups would experience the workflow. Mappers completed projects using the Public Domain Map iD Editor embedded within the OpenStreetMap US Tasking Manager. This allows mappers to contribute to the Public Domain Map database within the Tasking Manager workflow, separate from OpenStreetMap. Following this mapping phase, validation was completed by representatives selected by the Federal Railroad Administration and trained by OpenStreetMap US staff.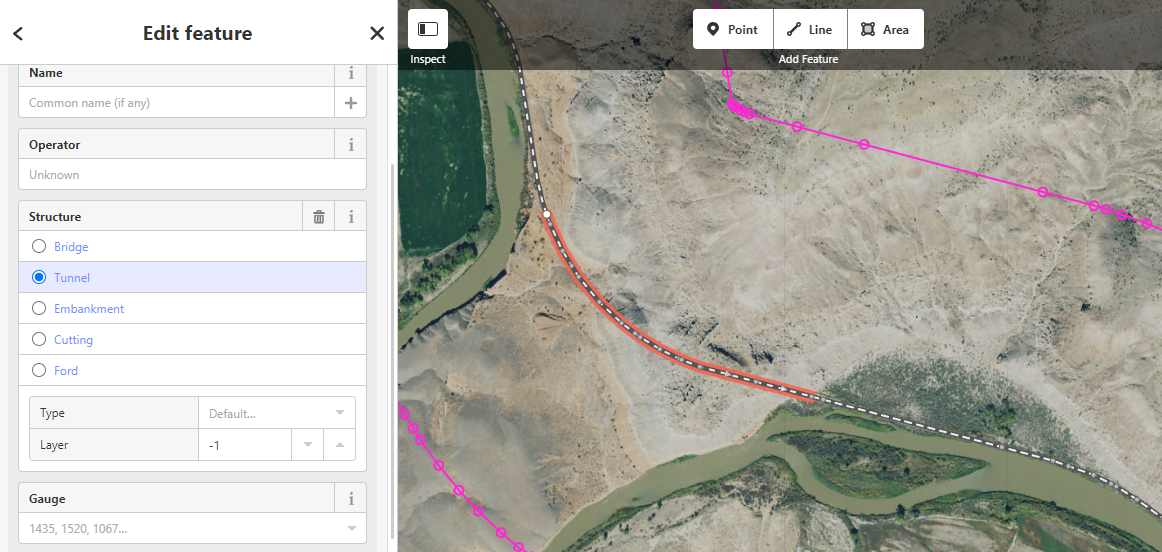 Key Takeaways
Collaboration between crowdsourcing networks was positive - This pilot served as a demonstration of how different crowdsourcing communities can be brought together to work on a single process. Despite different levels of experience with OpenStreetMap, volunteers from The National Map Corps and OpenStreetMap community were able to successfully navigate the Public Domain Map workflow and indicated interest in future projects. 

Rendering of modified features is needed - In many cases, validators struggled to locate tunnels that had been mapped. The difficulty in identifying mapped tunnels not only increased the amount of time validators spent per task, but it also led in some cases to tasks being invalidated erroneously. This is a particular challenge for projects such as tunnel mapping where features are added to existing data such as rail lines. We will explore how we can render features in the Public Domain Map iD Editor that were added or changed during the mapping process to improve this workflow for validators. 

Additional reference layers should be added to the iD Editor where possible - In some cases, reference layers could be helpful to guide both mappers and validators in locating features to be mapped beyond aerial imagery. For example, while the FRA needed tunnels mapped as ways, a point layer dataset of known tunnels was available. This is a reference layer that could be added to iD Editor to assist mappers and validators. In future pilots, reference layers will be added as available to aid the workflow. 

Sources of higher resolution public domain imagery are needed - Imagery quality was a consistent challenge for both mappers and validators. In addition to reviewing available alternatives from USGS, we will also look into additional sources of high-resolution public domain imagery for future projects, such as from state agencies and partnering with imagery companies. 

Training materials should be consolidated and available on the OpenStreetMap US Tasking Manager - For the pilot, training materials and feedback surveys were hosted on publicdomainmap.org, new users were directed to openstreetmap.org to sign up for accounts, and tasks were hosted on the OpenStreetMap US Tasking Manager. This meant that users needed to jump between multiple websites even for the simplest steps. With the pre-existing "Learn" page on the Tasking Manager and account sign-up built into TM version 4, there may not be any reason for participants to bounce between different websites. In the next phase, we will test the integration of training material directly on the OpenStreetMap US Tasking Manager site, particularly within the "Learn" section.

Training material should be separated for different audiences -  All mappers were provided with the same guidance regardless if they were new or longstanding contributors. As a result, guidance in some cases could be sparse for new users and overdone for experienced mappers. Going forward, we will also work to create separate learning "journeys" based on different audiences. This will allow experienced OpenStreetMap contributors to dive directly into Public Domain Map projects while providing an opportunity for new users to gain basic OpenStreetMap skills first.

The Tasking Manager workflow enables an authoritative review - Advances in the Tasking Manager workflow enabled federal representatives to be assigned as validators for Phase 1. In future phases, federal representatives may pilot setting minimum validator requirements to support an expedited validation process .
Looking Ahead
The completion of the pilot marks the end of Phase 1, focused on developing and testing the initial workflow/tool prototype for Public Domain Map. Once key takeaways and recommendations from the first pilot are incorporated, Phase 2 will begin. This phase will include scaling user testing with additional partners and data types with the improved workflow for mapping and validation, while the OpenStreetMap conflation workflow is scoped. We'll also be looking for more mappers, validators and even developers to join the project. Stay tuned!
And thank you to the pilot participants!
Over 20 volunteers from The National Map Corps and the OpenStreetMap US community contributed time and feedback to this first pilot. We're incredibly grateful for their support in helping us build this solution.