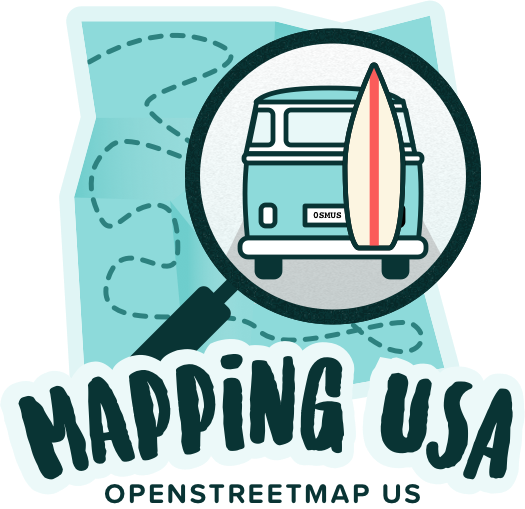 May 20–22, 2021
Our second virtual conference was a celebration of the OpenStreetMap community with a road trip through open mapping in the United States.
Thank you for helping to make our second virtual conference a success!
This virtual event was a celebration of all things OpenStreetMap and our community. This year, we took a virtual road trip through OpenStreetMap across the United States. Friday talks were recorded and can be viewed on the OSM US YouTube page. We hope to make this an annual gathering that enables people from across the country to learn about OpenStreetMap and network with fellow mappers through a combination of curated and community-led dialog.
Program
We had three fun days packed with talks, workshops, hacking, mapping parties and networking all around OpenStreetMap. Find more detail about the event schedule on the Mapping USA Wiki page.
Thanks to our Mapping USA Sponsors!
Surfs Up Level
Hang Ten Level

Coastline Level
University of Arizona Libraries
Acknowledgements
OpenStreetMap US would like to thank the following for their support and participation in making this virtual event a reality:
All of the volunteers of the Mapping USA Organizing Committee for planning this fantastic event - you are amazing!
Critigen for donating the logo design.
OSGeo US for the use of their Airmeet platform and continued support.
All of our supporting attendees that made a donation when registering for the event - you rock!
We are grateful for your support!
Still Interested in Donating?
Your financial support helps keep events like Mapping USA free and accessible. Is your company interested in supporting OpenStreetMap US? Email us at connect@openstreetmap.us or donate here.
News
Mapping USA: Spring 2021 - Mark Your Calendars for May 20, 21 & 22! Sidewalks in New York, to art in California. Everybody loves mapping, Mapping USA! OpenStreetMap US is excited to...